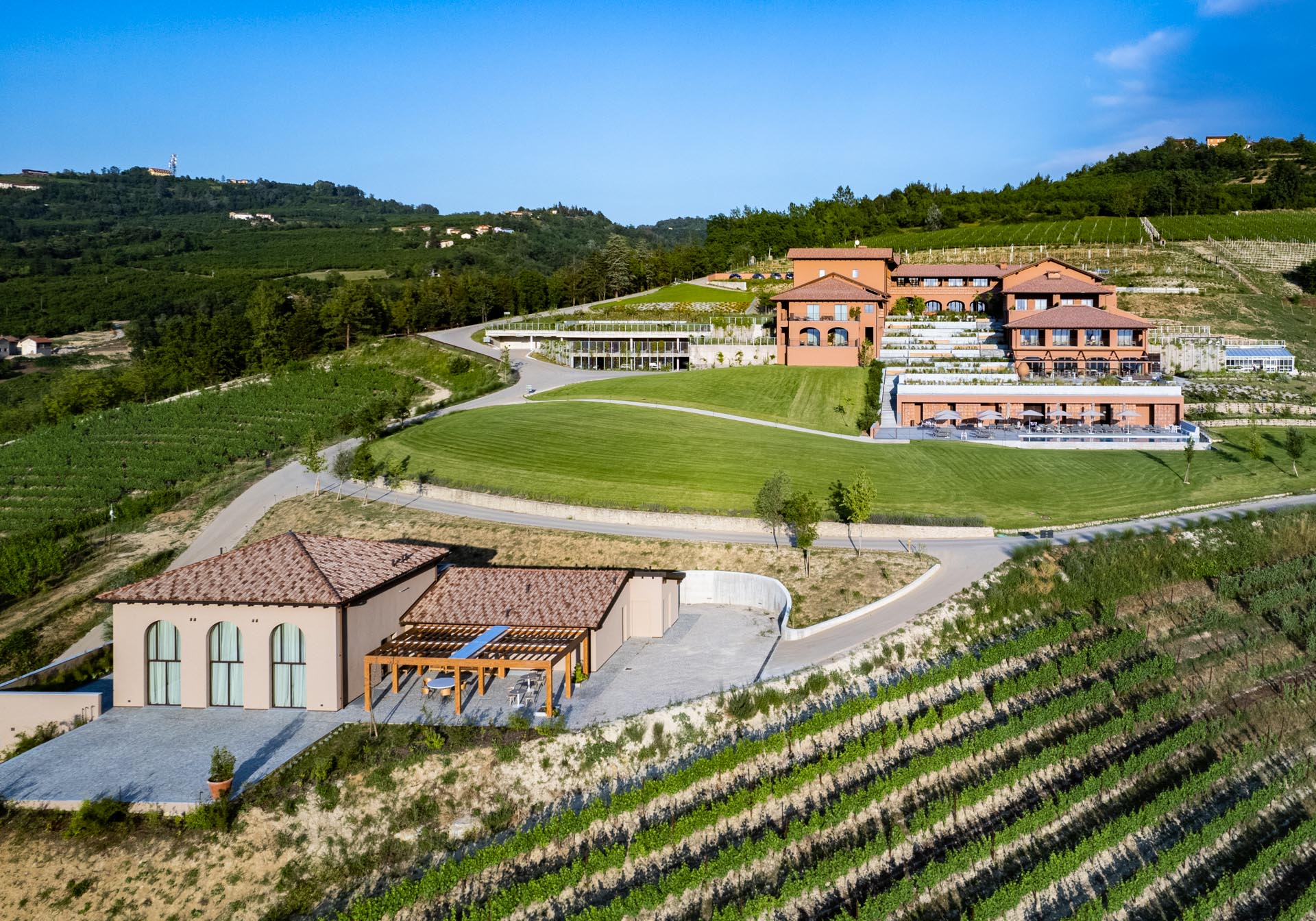 Langhe is an historical region of Piedmont, among rolling hills with breathtaking views. The UNESCO-protected area is considered to be one of the best wine-producing regions in Italy.  The sustainable Casa di Langa luxury property is located among the Barolo, Barbaresco and Alta Langa wine-making regions, residing on over 104 acres of natural landscape and forested property with its own extensive gardens, hazelnut trees, working vineyards, and grounds full of the area's famous truffles.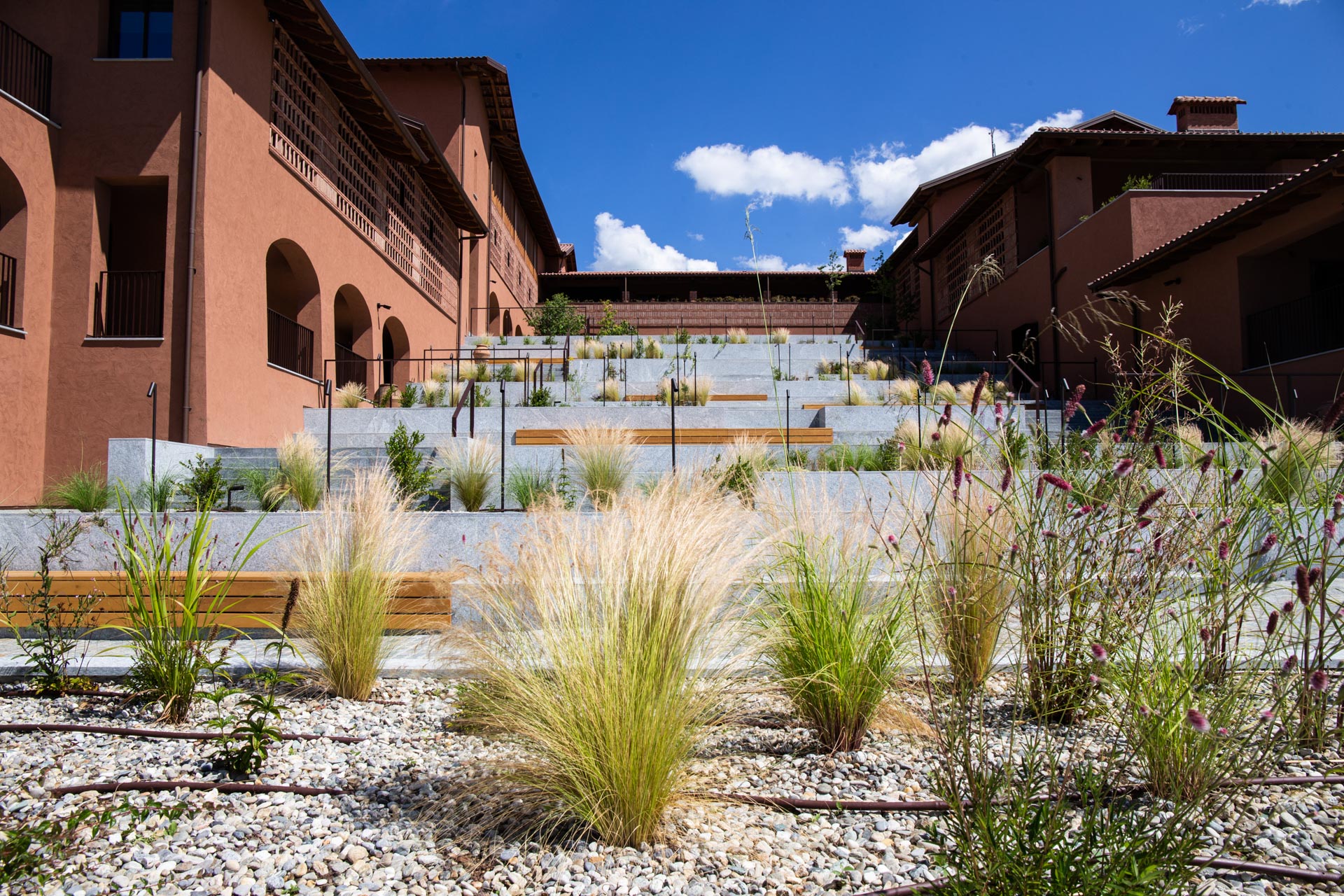 Opened in June 2021, the property was collaboratively designed by Milan-based GaS Studio and Parisotto + Formention Architetti.  Using local materials and soft neutral colors and earth tones to reflect the area's surroundings, the oak, terracotta, stone and light wood bring an aura of comfort and relaxation to the place.  Local Pietra di Luserna stone was sourced from Piedmont together with 100% recyclable terra cotta and raw, earth-based plasters from Lombardy-based Matteo Brioni.   All wooden elements such as flooring and millwork is certified formaldehyde-free. The result is 39 ample-sized guestrooms and suites equipped with refined Italian furnishings featuring such brands as B&B Italia, Cassina, DePadova, and Meridiani.  The comfortable beds feature deluxe mattresses by Midsummer Milano and the linens and accessories are handmade in Italy using natural and sustainable materials such as cotton, silk and wool.   Equipped with rain showers and LeLabo toiletries in refillable containers, the rooms also have private terraces with views of the green valleys, distant snow-capped Dolomites and the medieval tower of the Serralunga d'Alba Castle.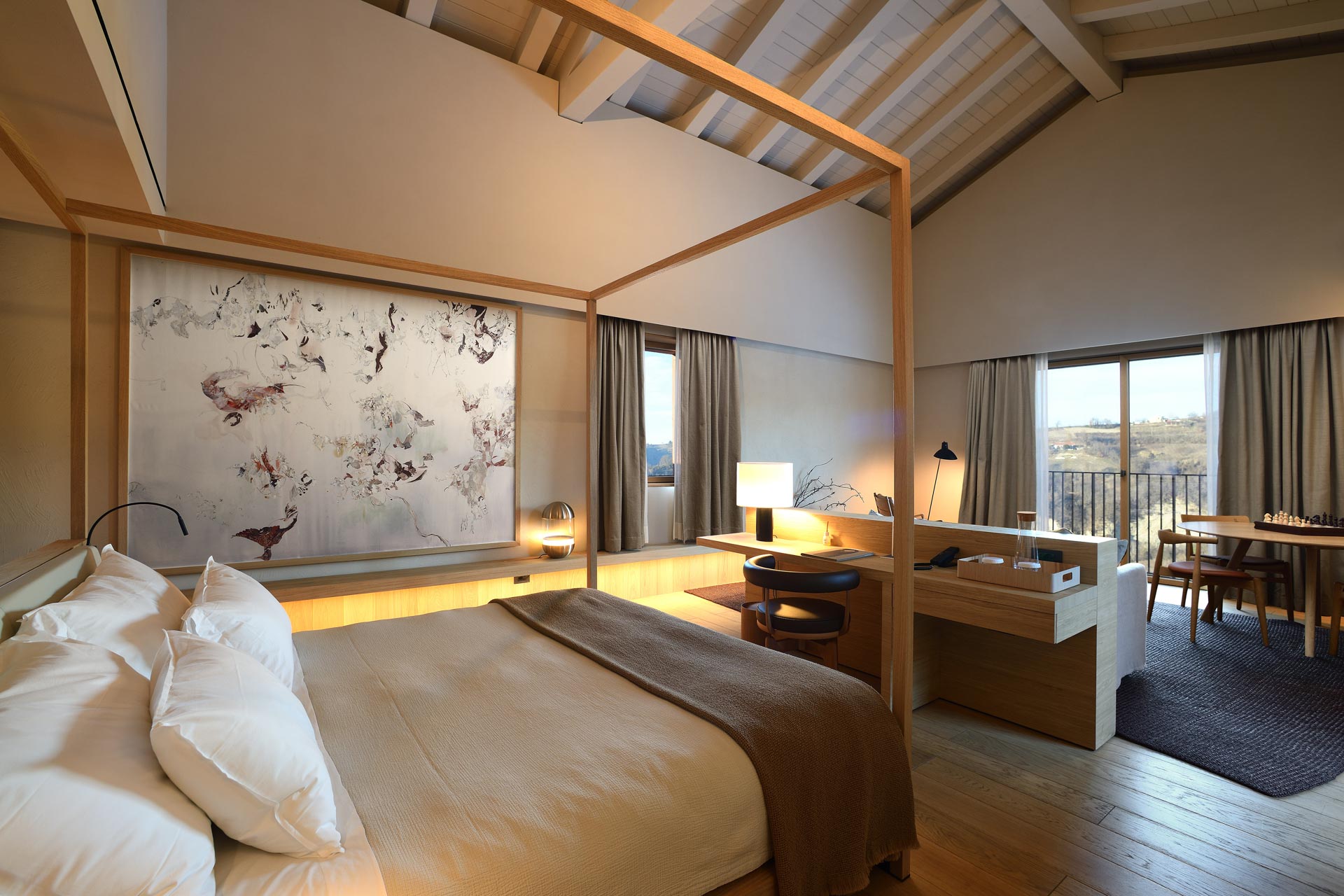 Luxury through sustainability is a key focus at the resort.  Casa di Langa is committed to the use of 100% recycled water as well as collecting and storing 100% rainwater for irrigation. The hotel is plastic-free, instead using glass or aluminum that are always returned and recycled.  Water fountains are placed throughout the hotel and pool bar, helping to reduce the need to purchase energy and to leave no carbon footprint, solar panels and geothermal pipes heat and cool guestrooms, and a pellet boiler connected to the pies[???] provides heated sanitary hot water.  All purchased energy comes from green energy production.  All company vehicles are fully electric with complimentary charging stations for guests.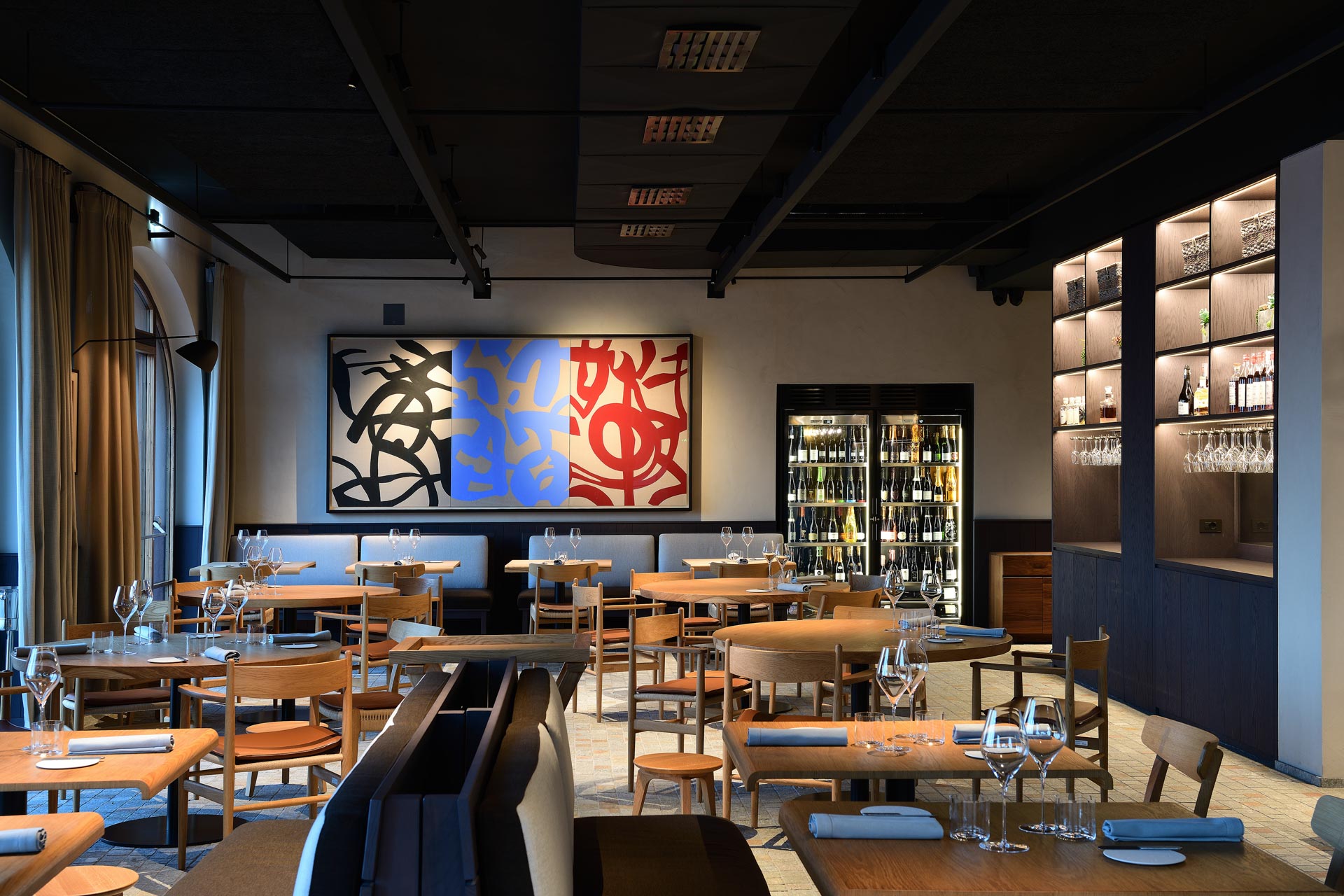 The resort's farm-to-table restaurant and bar, Fàula, serves up classic local dishes and utilizes foods grown in the estate gardens or locally sourced ingredients from small organic growers.  Sori cocktail bar is open daily from 11am – midnight for wine, cocktails or a quiet snack by the water-vapor fireplace.   The full-time gardening team employs sustainable agriculture and conservation practices, such as reforesting the land, planting native trees and covering plants in wood chips to reduce watering from twice a week to twice a month.  They grow all sorts of herbs and aromatics, as well as planting fruit trees and seasonable vegetables. Any kitchen waste is composted and used in the organic garden.  There are 40 beehives on the property enhancing the biodiversity of the region as well as supplying honey for the hotel.  Cooking classes, a wine academy, Vespa and bike tours, and an immersive, on-property truffle hunt with Lagotto dogs are among the authentic experiences available to guests.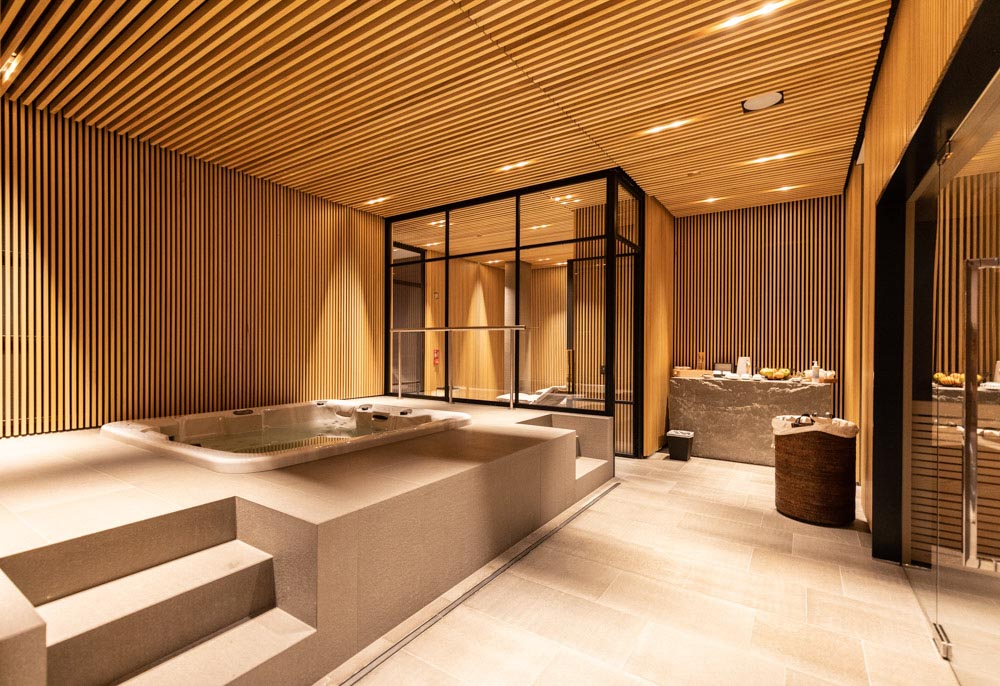 For wellness and rejuvenation, the hotel's Lelose Spa & Wellness features ecologically-minded treatments, techniques and ingredients.  The spa comes complete with a Jacuzzi, Finnish sauna, bucket shower and relaxation area with tea and dried fruits.  Yoga and Pilates sessions are available.  The heated infinity pool sits centerstage on property with a spectacular view, and a fitness center open from 5am-12am daily features Technogym equipment, a stationary bike, treadmill, workout bench and free weights.