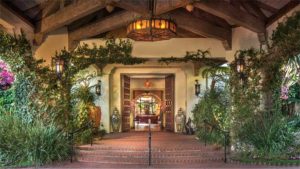 VIDEOS  //  Produced, written, voiced and shot by Angela Fairhurst; Edited by Craig Golin
Art & Architecture

Art & architecture are the personality of a destination and they exist everywhere, not just in galleries and museums. JauntTV explores works of local artists and masters of architecture & design.
What Makes Barcelona a Top Destination?
On the coast of northeastern Spain, Barcelona is the cosmopolitan capital of Spain's Catalonia region, and is a top travel destination. Barcelona is known for its art and architecture, but it is the overall atmosphere that drives people to visit. Be sure to ride the Montjuic Cable Car, and check out Port Vell, Montjüic Castle, The MNAC, National Art Museum of Catalonia, the National Palace and Sagrada Família – the giant Basilica and Gaudí's most famous work.
Sexy Santorini
Santorini is one of the most popular islands of Greece, especially among honeymooners and first-timers. It's crystal blue waters, tangerine sunsets and white buildings adorned with blue accents clinging to the cliffs make for a romantic destination.
Art Glass Blowing in Half Moon Bay
Glassblowing is a process and art form that has remained relatively unchanged, but over the last few decades has blown the boundaries of creativity. JauntTV learns how to heat it up with Doug from Half Moon Bay Art Glass.
Temples in Thailand
From small shrines to sprawling complexes, Buddhist temples play an important role in everyday Thai life. Thailand is a country with over 40,000 temples, with almost 33,902 of them still in current use. JauntTV traveled to Chiang Mai, Krabi and Bangkok to experience a number of buddhist temples where people go to pray for good health, good fortune, wealth, education and to seek life advice from monks that live there.
Pottery in Santa Fe
Santa Fe is loaded with interactive experiences, with one of them being a hands-on class at Paseo Pottery learning to make pottery.  During the two-hour class, guests are taught how to throw pots on a pottery wheel, and given the opportunity to make two pieces.
Santa Fe's Art Scene
Santa Fe New Mexico has always been known for its beautiful art and historic architecture, with an ever-expanding scene. JauntTV experienced Santa Fe's art in all its forms from traditional southwestern art to numerous galleries including Meow Wolf and the renowned Georgia O'Keefe museum.
A Visit to Mexico City
Apart from being one of the largest cities in the world, Mexico City is considered great for its outstanding number of museums, more than any other in the world, historic sites and landmarks. JauntTV takes a look around.
The Beauty and History of Athens
Athens is the capital and largest city of Greece. As one of the world's oldest cities in the world, JauntTV explored some of the city's history, architecture and must-see sights.
Messinia: A hidden gem in Peloponnese Greece
Messinia is a hidden gem on the southwest end of Greece, a region highlighting 4,500 years of civilization with glorious beaches, enchanting villages, ancient ruins, Venetian castles, vast olive groves, mountains, and coves.
Destination: Acapulco Stay Play See
Tourists are coming back in droves to Acapulco for the beaches, adventures (such as an over-water zip line), cultural museums, resorts, and a nature preserve.
The Heart of Vienna
Vienna, Austria's capital owes much of its fame to celebrated composers and offers a blend of stunning architecture, museums , imperial sights, sculptures, outdoor spaces and special Viennese charm. JauntTV enjoyed a stay at the classic Palais Hansen Kempinski Vienna while exploring the city.
Lisbon's MAAT Museum Power Exhibit
Set on the banks of the Tagus in Belém Lisbon Portugal is The Museum of Art, Architecture and Technology, otherwise known as the MAAT. One of the exhibits is the Tejo Power Station, a power plant factory converted into a museum reviewing the history of electricity in Portugal.
Modern Art Miami
Miami is hot on the modern art scene, and JauntTV visits some of the some of the exciting artsy places to visit year-round.
The Musée Jacquemart-André Paris
With over 130 museums in the greater Paris region to choose from,. JauntTV recommends the Musée Jacquemart-André, a museum that was once the private home of Edouard André and his wife Nélie Jacquemart, both avid art collectors in Paris towards the end of the 19th century.
Sintra Portugal and All Its Charm
Sintra is a picturesque and quaint resort town set amidst the pine-covered foothills of Portugal's Sintra Mountains, near the capital of Lisbon. JauntTV takes a day trip to see the town, its exquisite palaces, extravagant mansions and decorative gardens.
Unique Sculptures in Prague by David Černý
Prague "the city of 1000 Spires" is the capital and largest city of the Czech Republic.  Prague is a city where tradition meets modern. We sought out unusual modern art sculptures by the native artist David Černý, known for his creative and often controversial large-scale installations.
Toronto's Emerging Art Scene
Explore Toronto's art scene with a hard hat tour of the new Museum of Contemporary Art, the distillery art district and a graffiti art tour.
The Art & Architecture of Lisbon
JauntTV takes a look at the art and architecture of Lisbon, Portugal where it has been significantly transformed in the last five years.
Madrid by Scooter
JauntTV sees the art and architecture of Madrid on a classic Vespa Scooter.
 Art and Architecture in Panama City
Join JauntTV in Panama City to discover the art and architecture of its historic city Casco Viejo, a UNESCO heritage site.
The Quaint City of Carmel-by-the-Sea, California
Jaunt TV discovers the architecture, hidden passages and treasures of Carmel-by-the-Sea, a quaint square mile beach city on California's Monterey Peninsula.
Morgan's Rock Ecolodge, Nicaragua
Tour of the bungalows at Morgans Rock Hacienda & Ecolodge in Nicaragua.