Videos: Intrepid Travel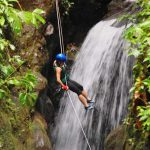 VIDEOS  //  Edited by Craig Golin

Intrepid Travel

Not only planes, trains and automobiles. We're scaling rock walls, climbing mountains, biking backroads, zip lining, diving deep and getting up close and personal with nature. See the world from a whole new angle.
Destination: Acapulco Stay Play See
Tourists are coming back in droves to Acapulco for the beaches, adventures (such as an over-water zip line), cultural museums, resorts, and a nature preserve.
The Best of Munich, Bavarian Adventure, Food & Drink
Munich is Bavaria's capital, known for its annual Oktoberfest celebration, beer halls, centuries-old buildings and numerous museums. JauntTV got to experience all that and a few more – riding a BMWi8, zip lining the Olympic Stadium and watching surfing the middle of the city.
Swimming with Whale Sharks in Quintana Roo
Join JauntTV as we swim with Whale sharks 20 miles off the coast of Quintana Roo, Mexico on a bucket list adventure.
Hot Air Ballooning in Arizona
Our JauntTV team takes a sunrise hot air balloon ride above Deer Valley and Sonoran desert vistas in Phoenix Arizona with Rainbow Ryders.
The Beautiful Animals of South Africa
Join JauntTV on a once-in-a-lifetime trip to South Africa to see safari animals, penguins, and humpback whales.
Adventures in Costa Rica
JauntTV takes us on a nature and adventure journey near the Arenal Volcano to the Tabacon Thermal Resort and Spa.
Desert Adventure in Palm Springs
Join JauntTV on an outdoor adventure to San Jacinto Peak and Tahquitz Falls in Palm Springs, California.
Chicago by Sea and Air
Chicago is one of the most dynamic cities in the United States and known for its bold architecture. Join JauntTV by sea and air to view the city with us.
Cruising Over Cabo on an ATV
A fun snippet of our ATV ride on a suspension bridge in Cabo.
Ziplining in Nicaragua
A little local culture, a little ziplining, a little wildlife and a little nap at a private beach.
Falconry at Ashford Castle Ireland
JauntTV vignette on Falconry at the Ashford Castle in Mayo County Ireland.