Seeking to find what is original in luxury hotel bathrooms, our Luxe Lavs contributor, Angela Fairhurst, found surprises in the following four hotels.   
PALAIS HANSEN KEMPINSKI, VIENNA 
Located at Schottenring on the famous Ring Boulevard is the Palais Hansen Kempinski, a 152-room and suite hotel. It's a heritage building that was constructed in 1873.The hotel's redesign transformed original historic elements such as exterior walls into interior walls and installed a glass atrium in what used to be an open ceiling. Interior designer Jean-Claude Laville reflects the timelessly classic 1920s and 1930s design. Whether in rooms or suites, the Calcutta marble bathrooms are all spacious with superior lighting and ample counter space. The gold or silver mosaics in the bathrooms are an homage to the Art Nouveau and Wiener Moderne, Viennese Modern Age. The most innovative bathroom feature is a console of buttons on the bathtubs by Gerloff. Rather than finagling with faucets, guests simply push on/off and hotter/colder buttons. This design makes it easier for guests to use.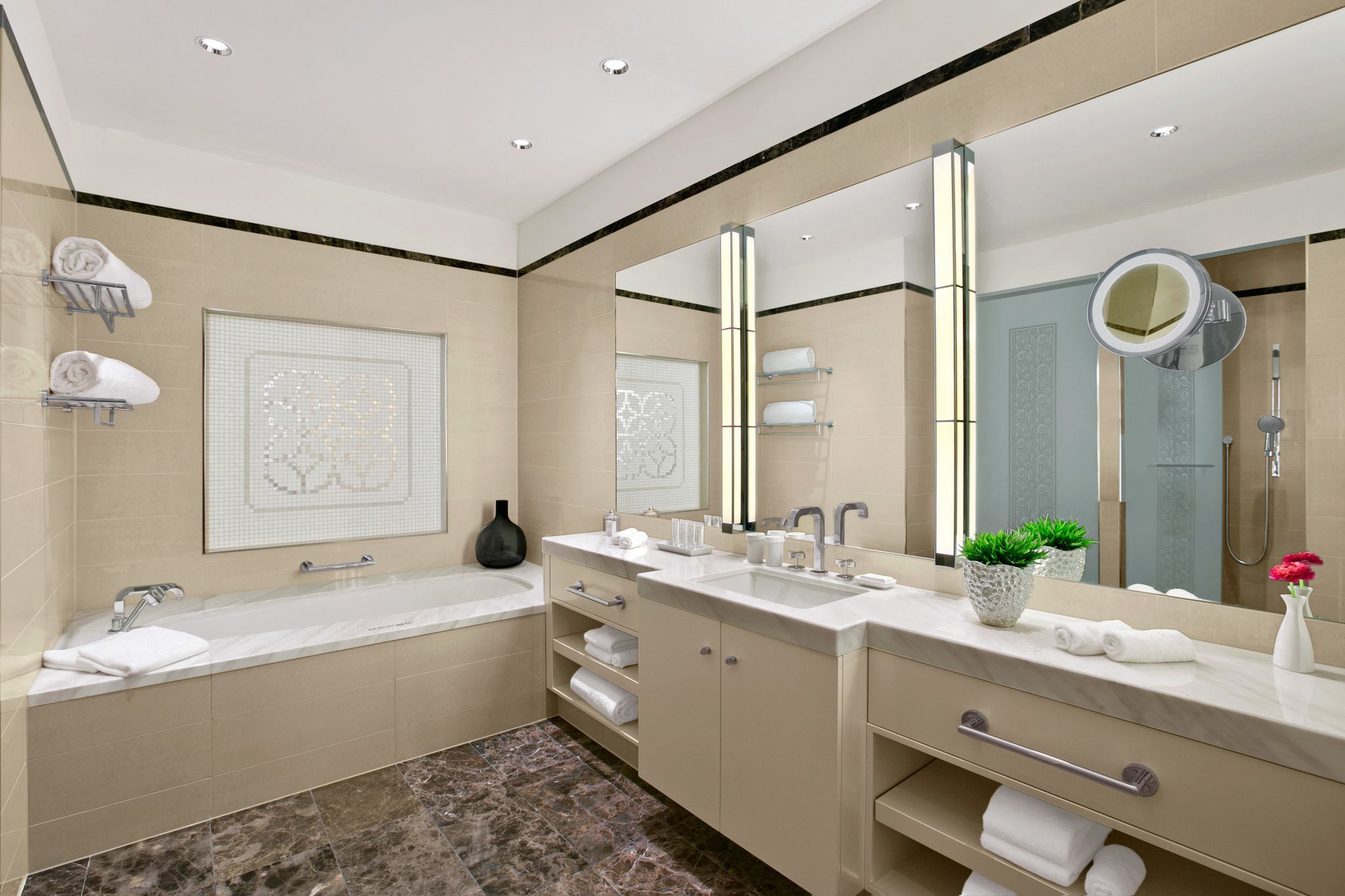 Photo Credit: LED World
LE MEURICE BELLE ETOILE SUITE, PARIS
Dating back to 1771, and opened in 1815, Le Meurice is a hotel of French palace distinction.  Located in Paris' first arrondissement opposite the Tuileries Garden, between Place de la Concorde and the Musée du Louvre on the Rue de Rivoli, the hotel combines exceptional 18th century opulence with contemporary chic. It is home to the haute cuisine two Michelin star restaurant Le Meurice by Alain Ducasse.   With 160 rooms, and almost four times as many employees to care for guests, service is a key element of this hotel. Located on the seventh floor is the stand-out Belle Etoile Suite.  The suite, decorated in a plush Louis XVI style, has an expansive roof deck offering 360 degrees of scenery overlooking the Eiffel Tower, Notre Dame and Sacré Coeur.  The spacious marble bathroom itself features three windowed walls from which you can appreciate the beauty of Montmartre, the Opéra, and the Place Vendôme–especially from the grand bathtub with a bottle of Krug that comes with your booking.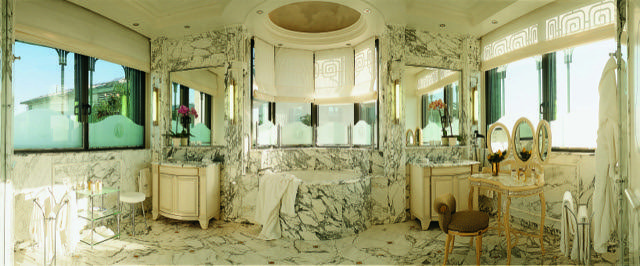 KIMPTON HOTEL MONACO, WASHINGTON D.C.  
Originally built in 1839 as the city's General Post Office, The Kimpton Hotel Monaco is a national historic landmark property in Penn Quarter. It has 184 rooms and combines historic charm with Kimpton's vibrant colors and ecletic style.  The suites throughout the hotel were redesigned with custom stone tile flooring and dual marble double vanities. The bathrooms in the hotel's Robert Mills presidential suites feature spacious wet rooms with walk-in showers and freestanding, cast iron clawfoot bathtubs for two set in glass enclosures. The bathroom design was inspired by the crown molding that architect Robert Mills used throughout the historic building. Resembling an elegant powder room, the bathroom features acanthus leaf wall coverings and overscale, rounded mirrors with lacquered off-white edges.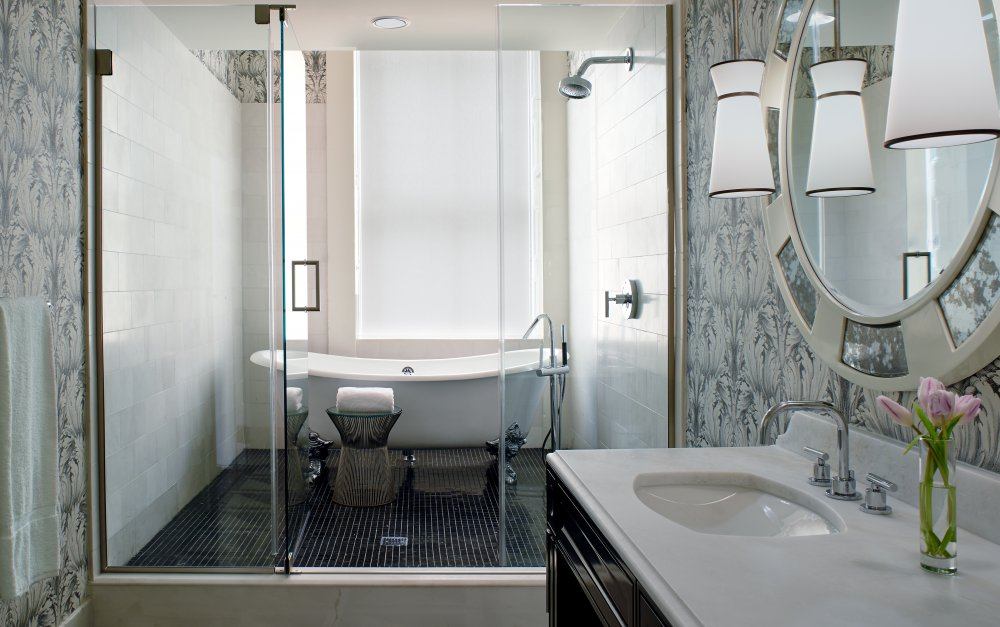 HOTEL 48LEX, NEW YORK CITY
Located in Manhattan's Midtown East neighborhood, Hotel 48LEX is an upscale boutique hotel with 116 studios and suites designed in the style of residential guesthouses with signature amenities and thoughtful guest services combined to create a relaxed and personalized experience. Guests have an opportunity to practice self-care and supplement the hotel's amenities and wellness offerings with a unisex in-room spa mini-bar called Mix + Mask  in the property's suites and penthouses. The spa mini-bar, in each luxury bathroom, offers a selection of products available for purchase–including three 24K gold-infused collagen masks from KNESKO SKIN, a grapefruit face cleanser and rice bran eye moisturizer from Malin+Goet, and a starter shave kit from The Art of Shaving. Enjoy pampering yourself while indulging in a drink from the fully stocked Butler's pantry.