By Angela Fairhurst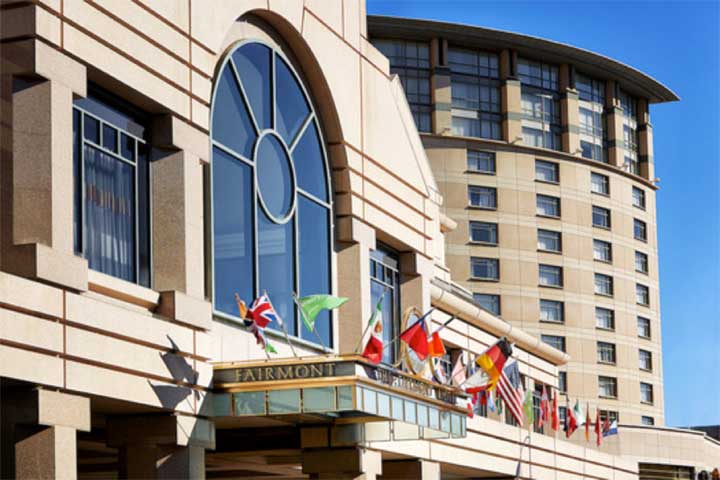 Silicon Valley in the southern San Francisco Bay Area, is home to hundreds of start-up and global technology companies, with Google, Apple and Facebook among the most prominent. With all this business being done, where does one stay?
The Fairmont San Jose Hotel is located a short distance from the San Jose International Airport in the heart of Silicon Valley. Catering to the discerning business traveler, the 805 guest rooms, including 77 suites and 65,000 square feet of meeting space is a mix of traditional and contemporary design. The Cabana Level is on the 4th floor with the pool and spa, while the 20th floor houses multiple penthouse suites with city views.
Rich in tradition with the original Fairmont hotel founded in 1907 in San Francisco, today FRHI Hotels & Resorts operate luxury hotels and resorts in 19 countries. The Fairmont reputation is based on genuine hospitality, where service and attention to detail elevate the stay. The skilled and motivated staff at each hotel are equipped with the tools and the mindset to offer guests a warm welcome and make sure they feel valued and appreciated. San Jose is no exception.
In addition to being located in an area with abundant eateries, dining at the Fairmont presents a number of delicious options. There's the well-known Classic American steakhouse Grill on the Alley; McCormick & Schmick's Seafood Restaurant; Takai Sushi & Sake Bar; and Fountain Restaurant for California fare.
Fairmont San Jose is an environmentally minded hotel, conserving resources, preventing pollution and minimizing waste. The hotel has a corporate social responsibility program. A nine-year old Pajama Program delivers warm sleepwear and nurturing books to children in need throughout Santa Clara County.
The Fairmont has also partnered with Bees at Home, a local bee rescue business focusing on the rescue, removal and relocation of local honeybees.
The hotel has added four new honeybee hives on the hotel's South Tower rooftop to rescue native honeybees that have established their hives in less than desirable locales. As an added plus for hotel guests, the harvested honey will be used as an ingredient in the house-made pastries and honey and honeycomb will make regular appearances at the Fountain Restaurant Brunch Buffet.