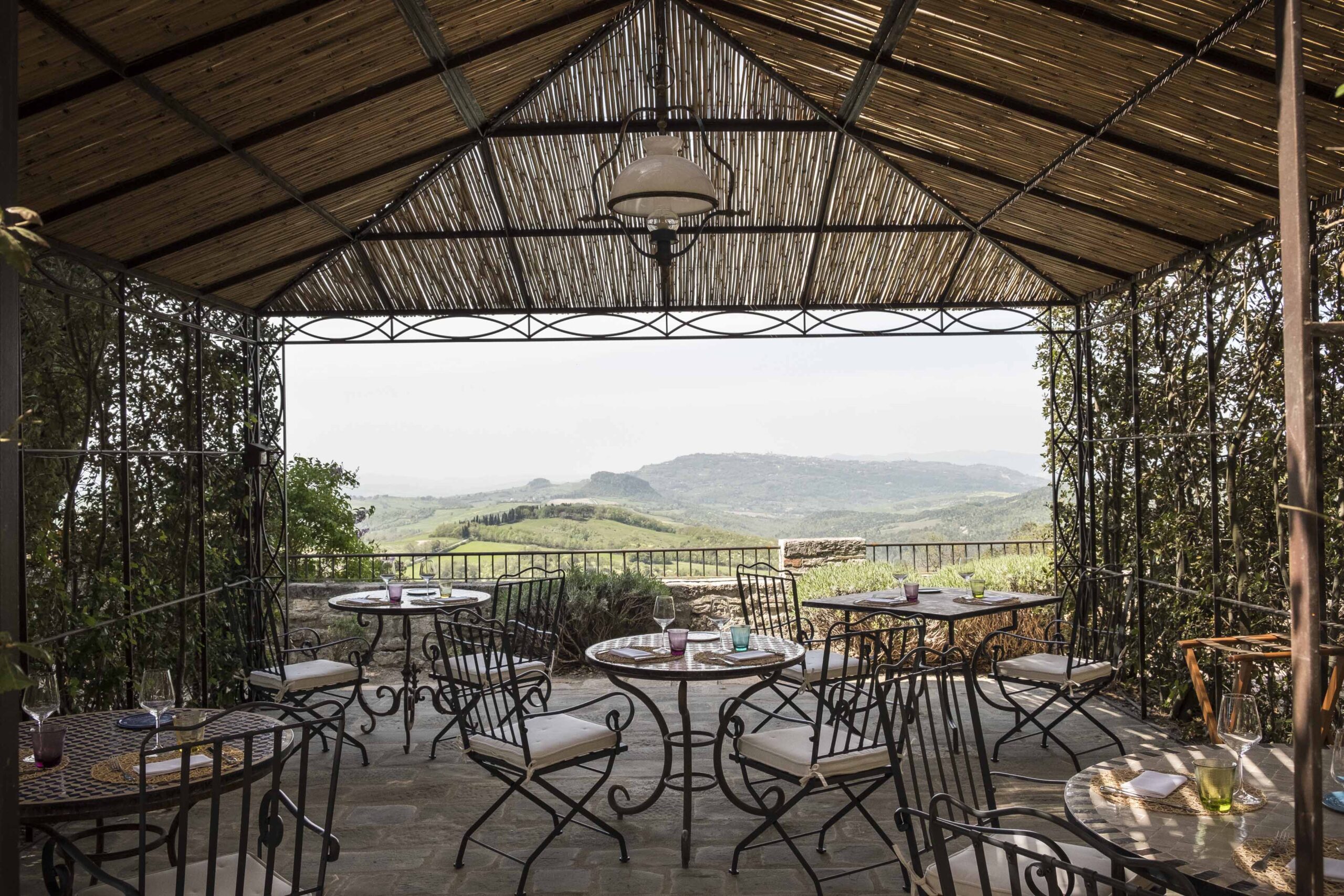 Borgo  Pignano  islocated in Italy's historic Tuscan countryside between the medieval villages of Volterra and San Gimingano.   Every inch of the 750 acre resort is a passion project of beauty and sustainability by Welsh Billionaire who resides in the US.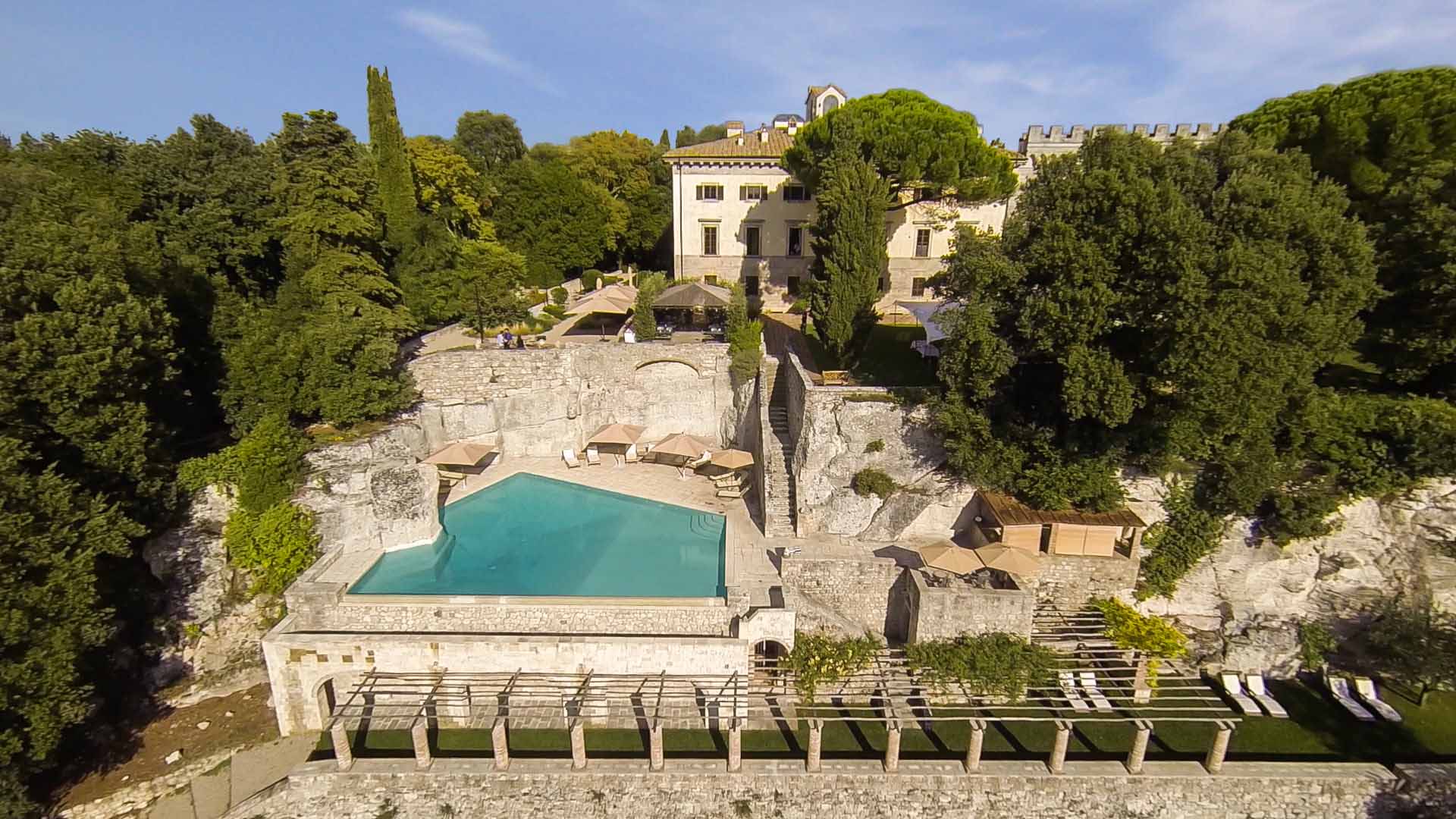 Its luxury rooms, suites, farmhouses, apartments and villas all have been restored and/or built and decorated with luxury Tuscan style interiors and original 18th century architectural details.   The food is tremendous, and the team of people that work and service the hotel and its guests are top notch.  The entire property does everything with a sustainable infrastructure in mind to protect, preserve, and support the local area and its surroundings.   It's eco-tourism at its finest with the villa estate of Borgo Pignano being one of the first members of Beyond Green.
The stunning dwellings are made with environmentally friendly products and materials such as locally sourced stone, reclaimed slate and roof tiles, organic plasters, and eco-paints.   Antiques have been gathered from all over the region and are tastefully blended with the finest fabrics and linens to make comfortable and peaceful settings.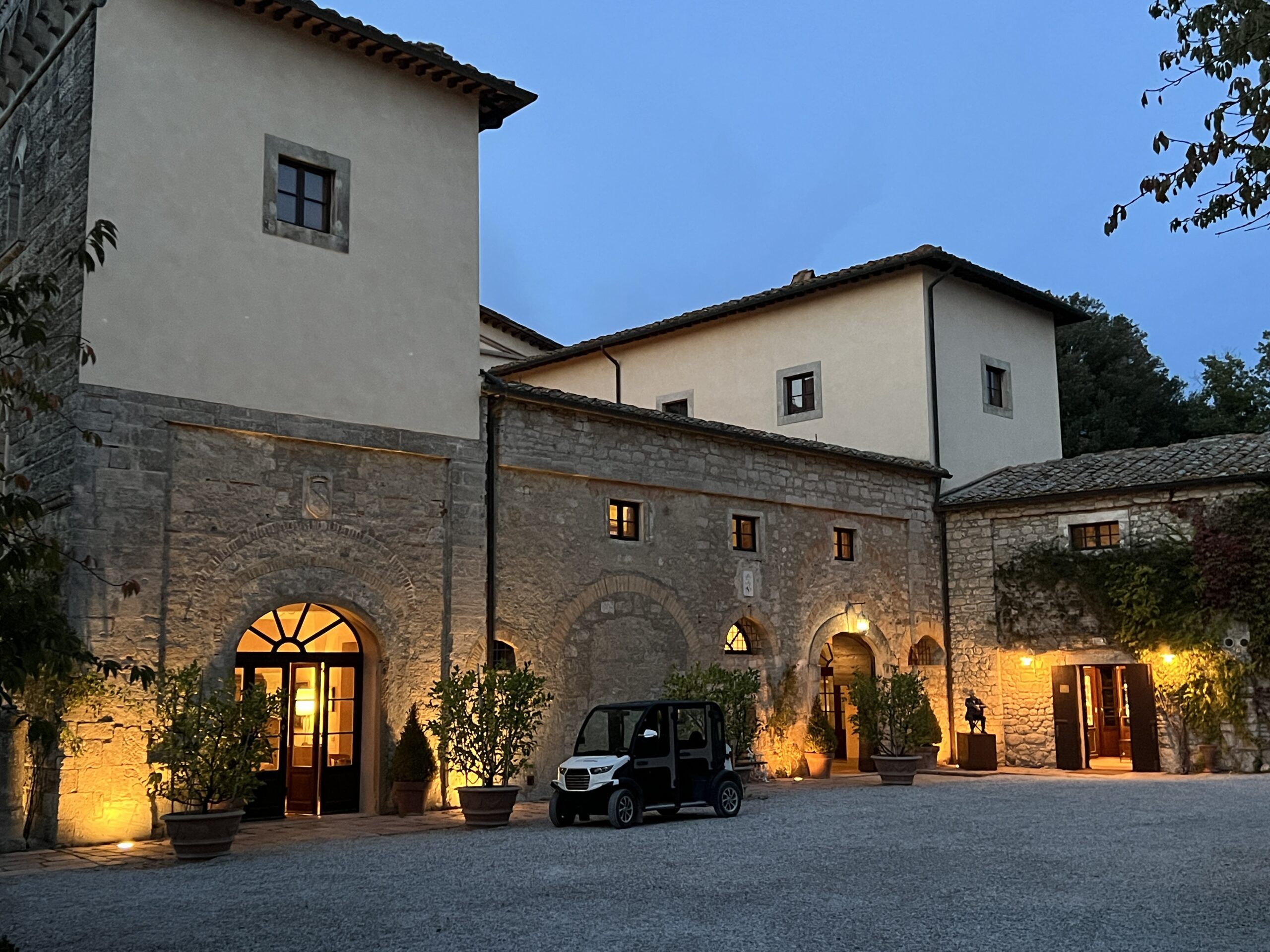 The main building is an 18th Century villa with fourteen rooms and suites, some with original frescoes and all with marble and travertine bathrooms.  There are other Maisonettes, Villas, and a private house for rent on property.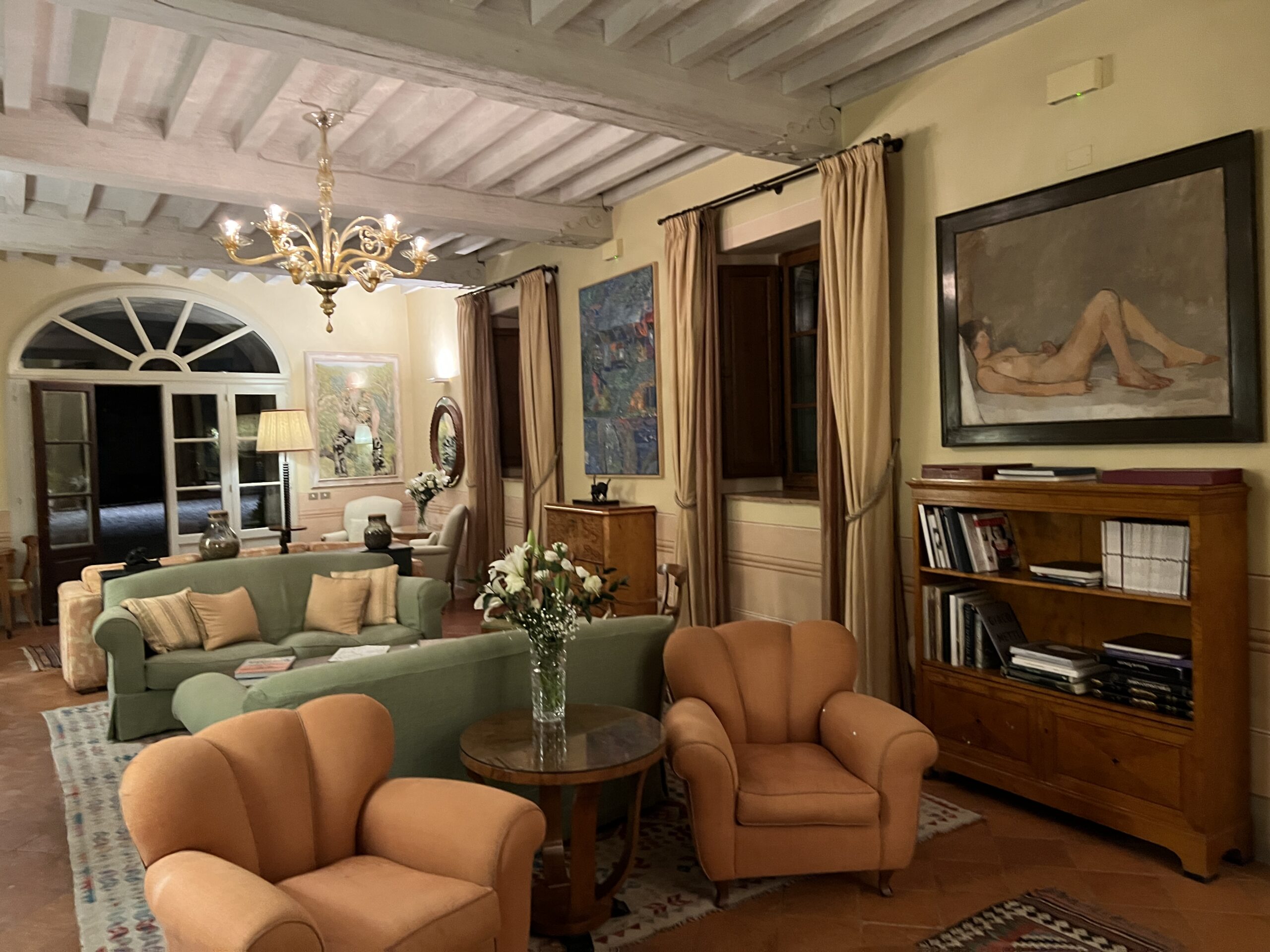 The center of Borgo Pignano is its organic farm which provides so many of the ingredients used in the kitchen making dining a culinary explosion of delight at each meal.  The farm raises pigs and chickens, produces olives, grains, cereals, organic flours used to make artisanal pizzas and breads in traditional wood-burning ovens, pastas, free-range eggs, nuts, seeds, jams, and cold-pressed Tuscan olive oil.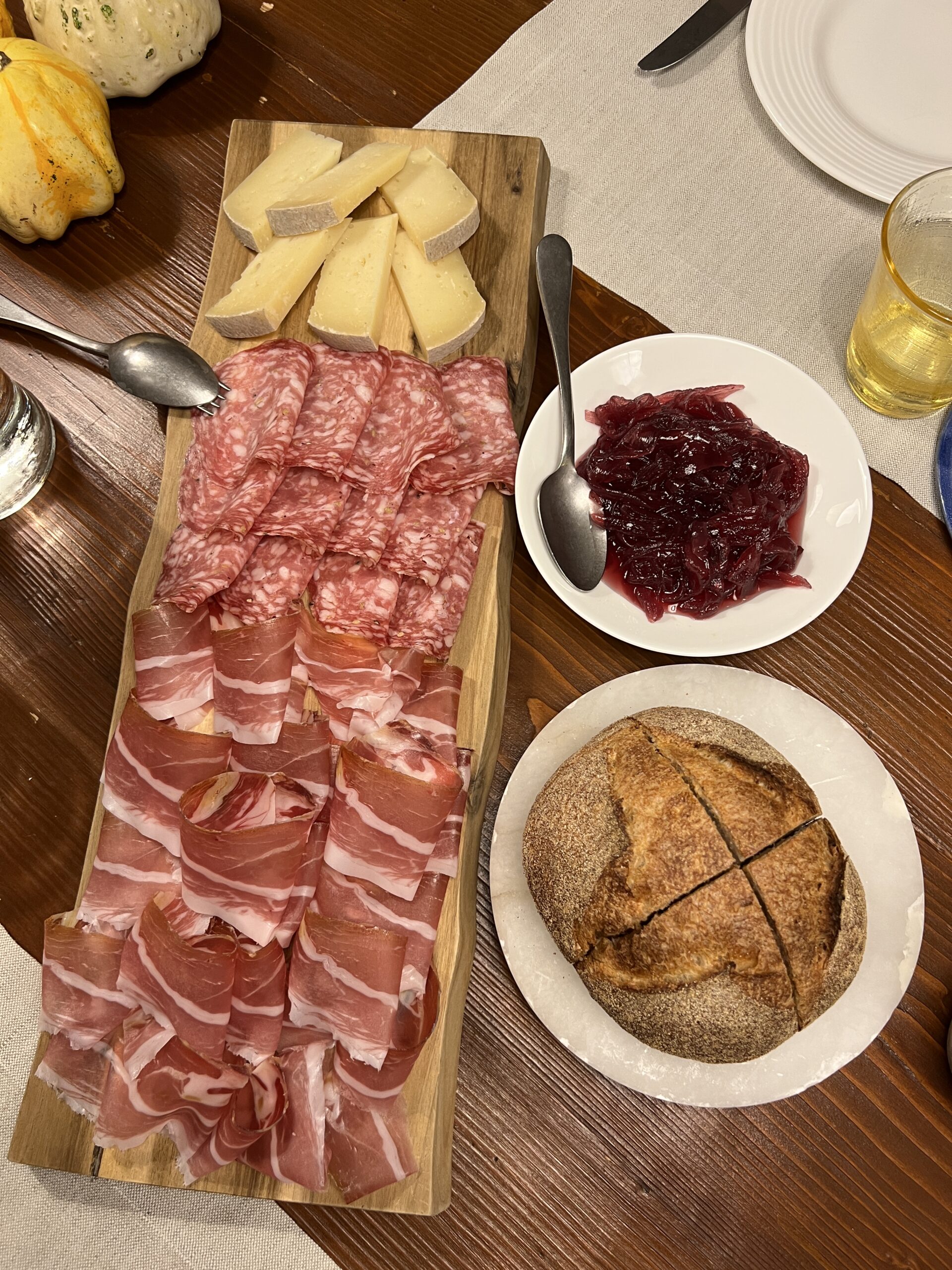 The restaurant, Villa Pignano, has a creative and innovative menu, highlighting many local specialties. Guests compliment their meals with a rich selection of famous Tuscan organic and biodynamic wines as well as enjoy the Villa's own Vermentino white wine and Ciliegiolo and Abrusco Nero di Toscana red wines grown in the property's vineyards and made in Pignano's winery.  The native varietals are grown without making use of any chemical products.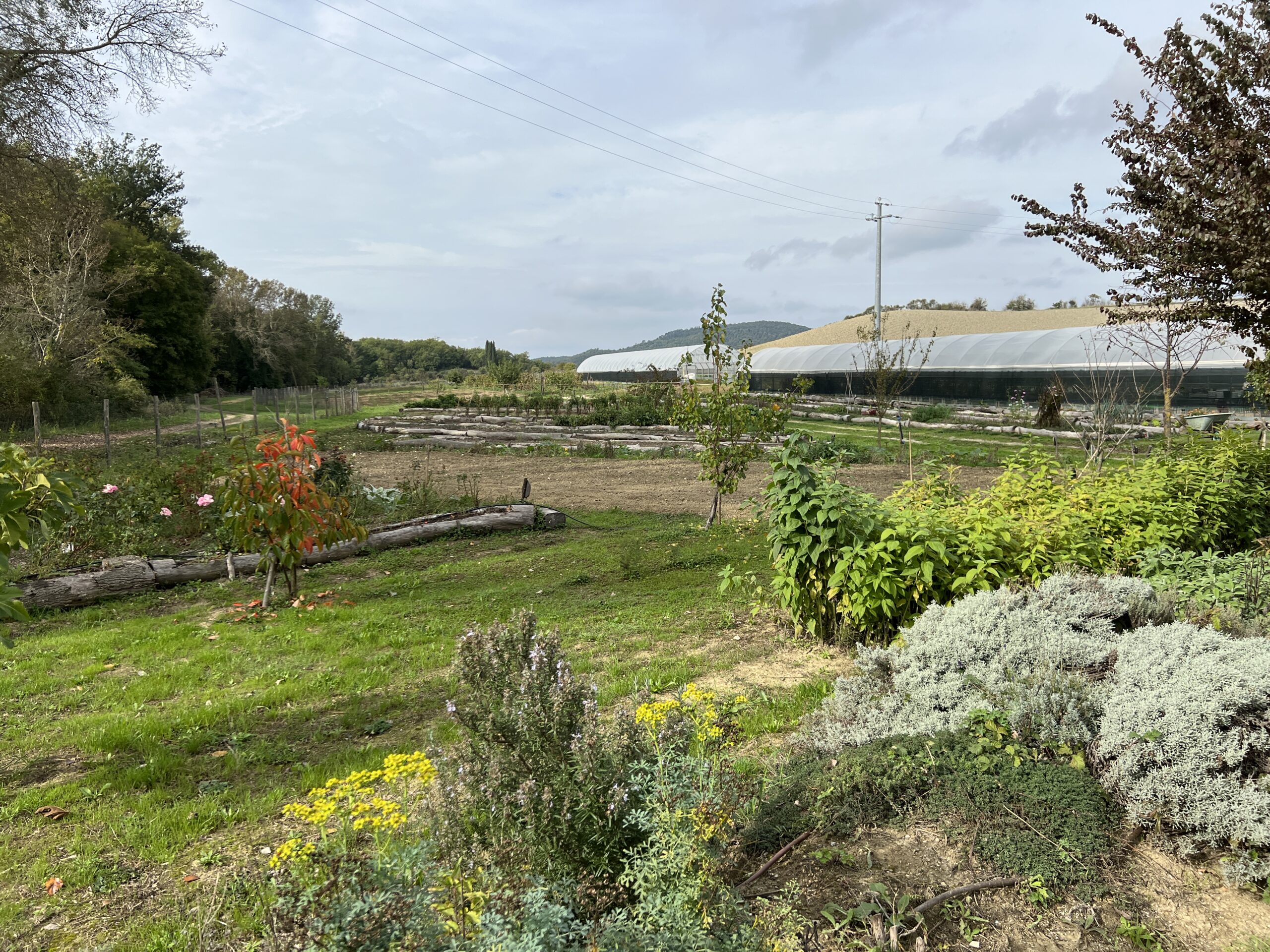 Service is discreet, yet attentive.  Meals can be enjoyed in the dining room or al fresco adjacent to the pool area. The outdoor bar is open daily featuring artisanal cocktails.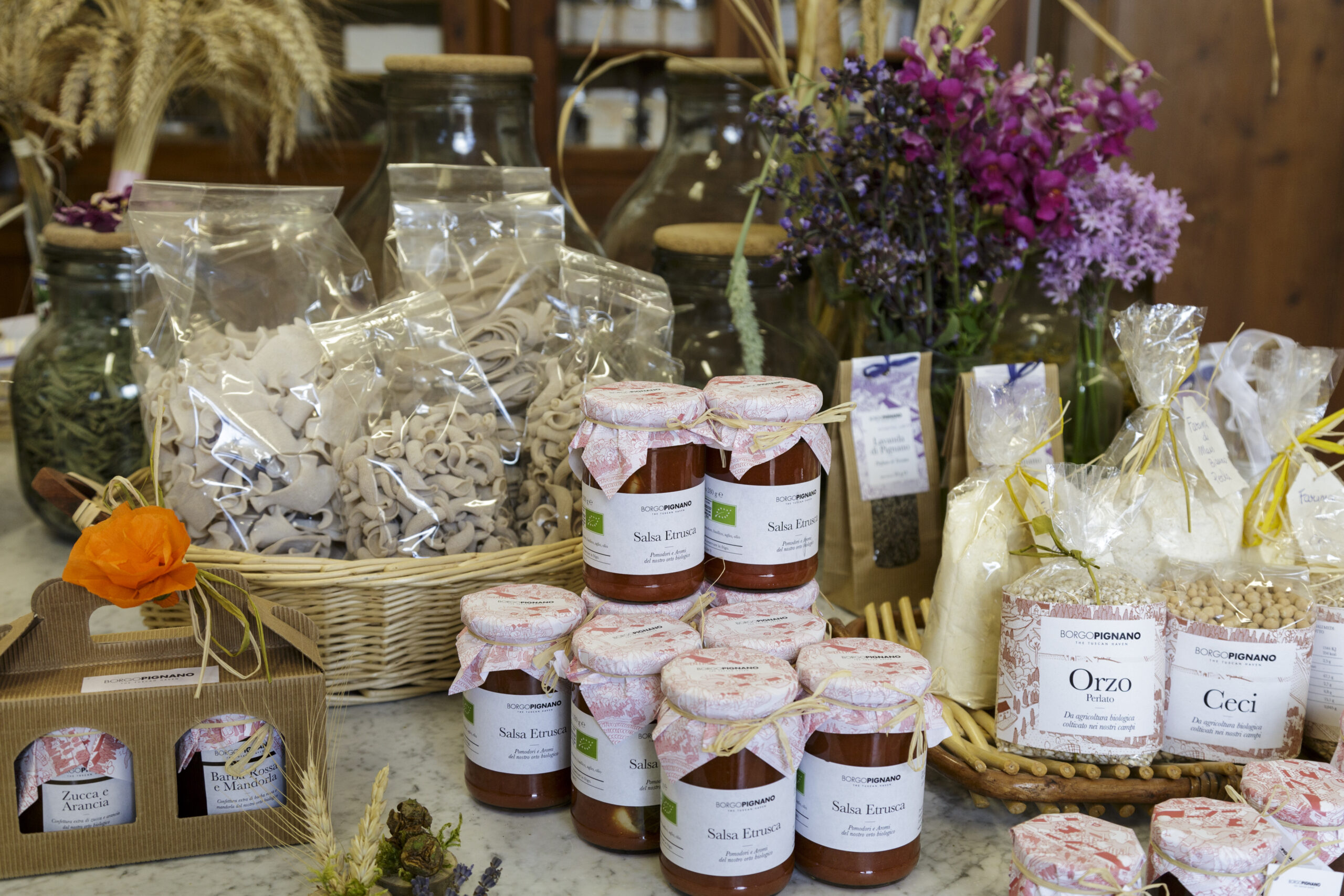 Sustainability is the backbone for all the activities at Borgo Pignano.
The In-House Herbalist, Betty, offers lessons in using herbs in the kitchen, cocktail bar, for teas and for soaps, oils and lotions. There are cooking classes devoted to the traditional Tuscan ways of making focaccia, breads, pastries and pizza.  Organic and biodynamic Wine tastings take place in the historic cellar of Pignano's 18th Century villa where experts share their passion for wine accompanied by a selection of cold meats, cheeses and breads.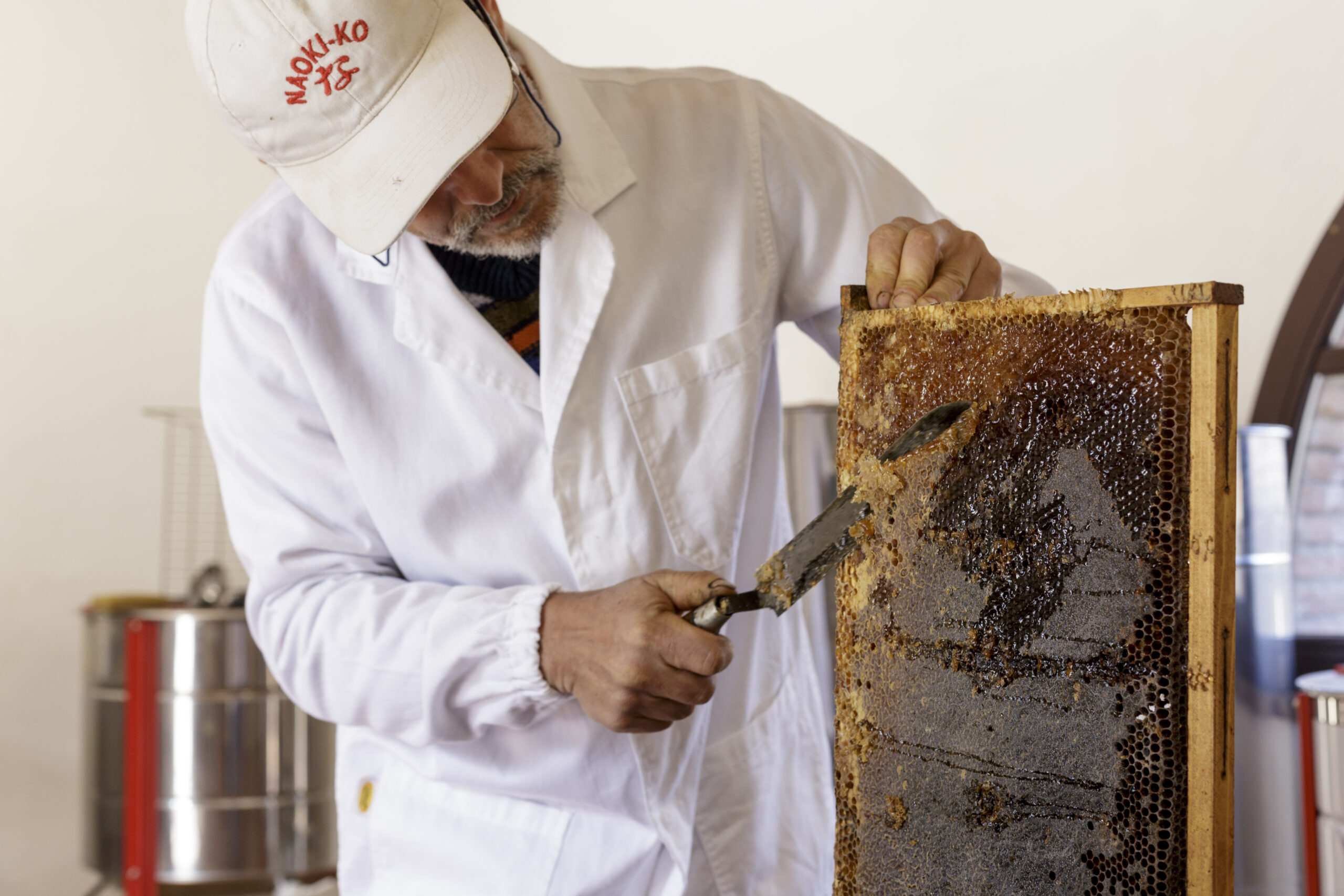 With bee colonies around the world diminishing, the importance of attracting healthy bees to Borgo Pignano's hives is paramount. Growing a wide range of flowers and plants, the Villa's hives are able to produce Millefiori flavored honey while at the same time helping to pollinate the expansive selection of vegetables and fruit trees.   Guests are invited to acquire knowledge about bee-keeping and the traditional methods for extracting honey and beeswax while understanding the social structure linking the Queen bee, drones and worker bees.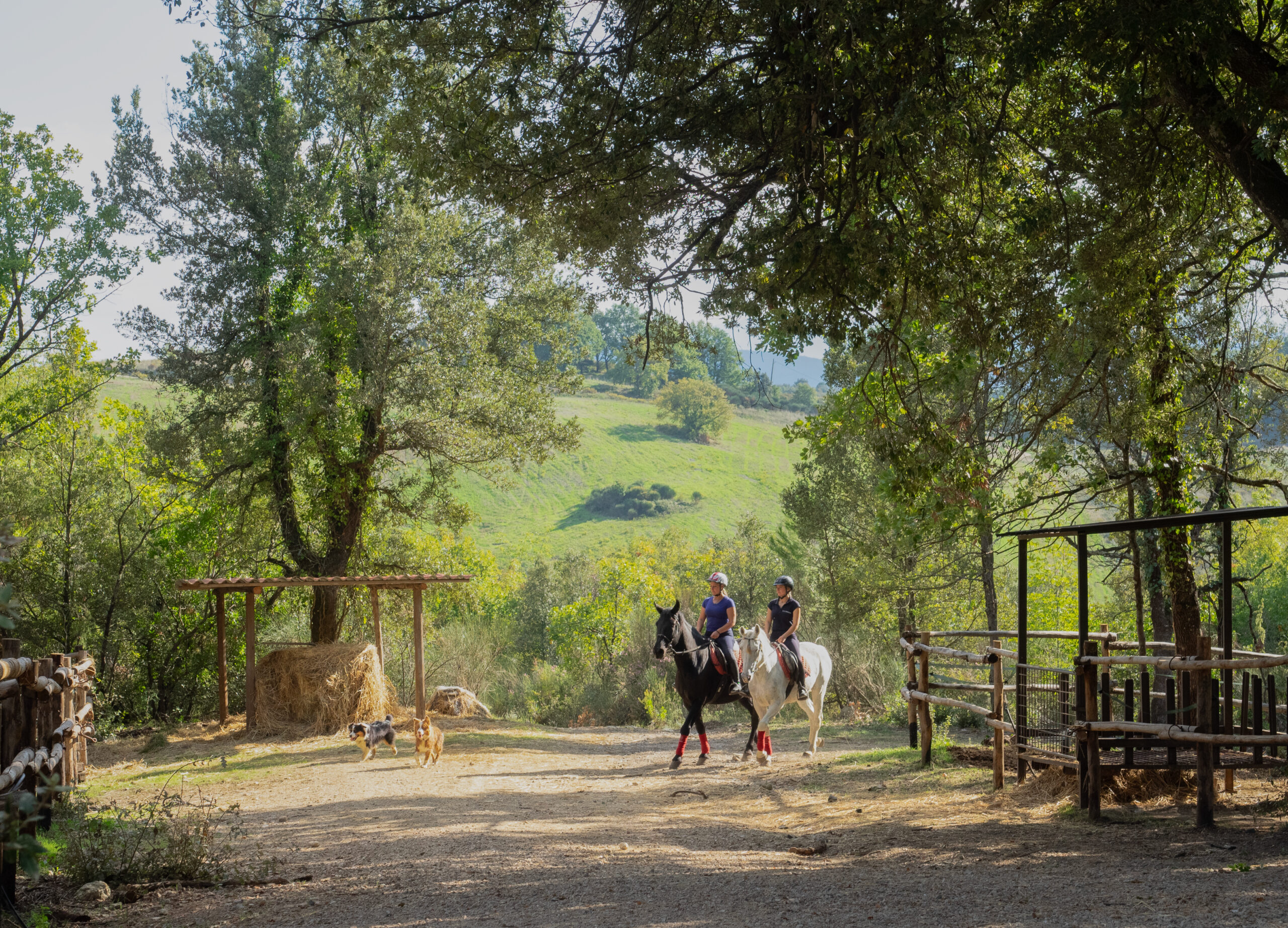 Bicycles are available for guests to ride on the estate.  Well-trained horses reside at a full-size arena on property where instructors can provide riding lesson for beginners and excursions for guests to explore the beauty of Tuscany on horseback.   There are paths and roads for hikers and runners, a half basketball court, five-a-side football pitch, tennis court, yoga, pilates, and a gym available for guests, while a menu of special spa treatments using natural products made on property from products grown in the garden provide guests with multiple options.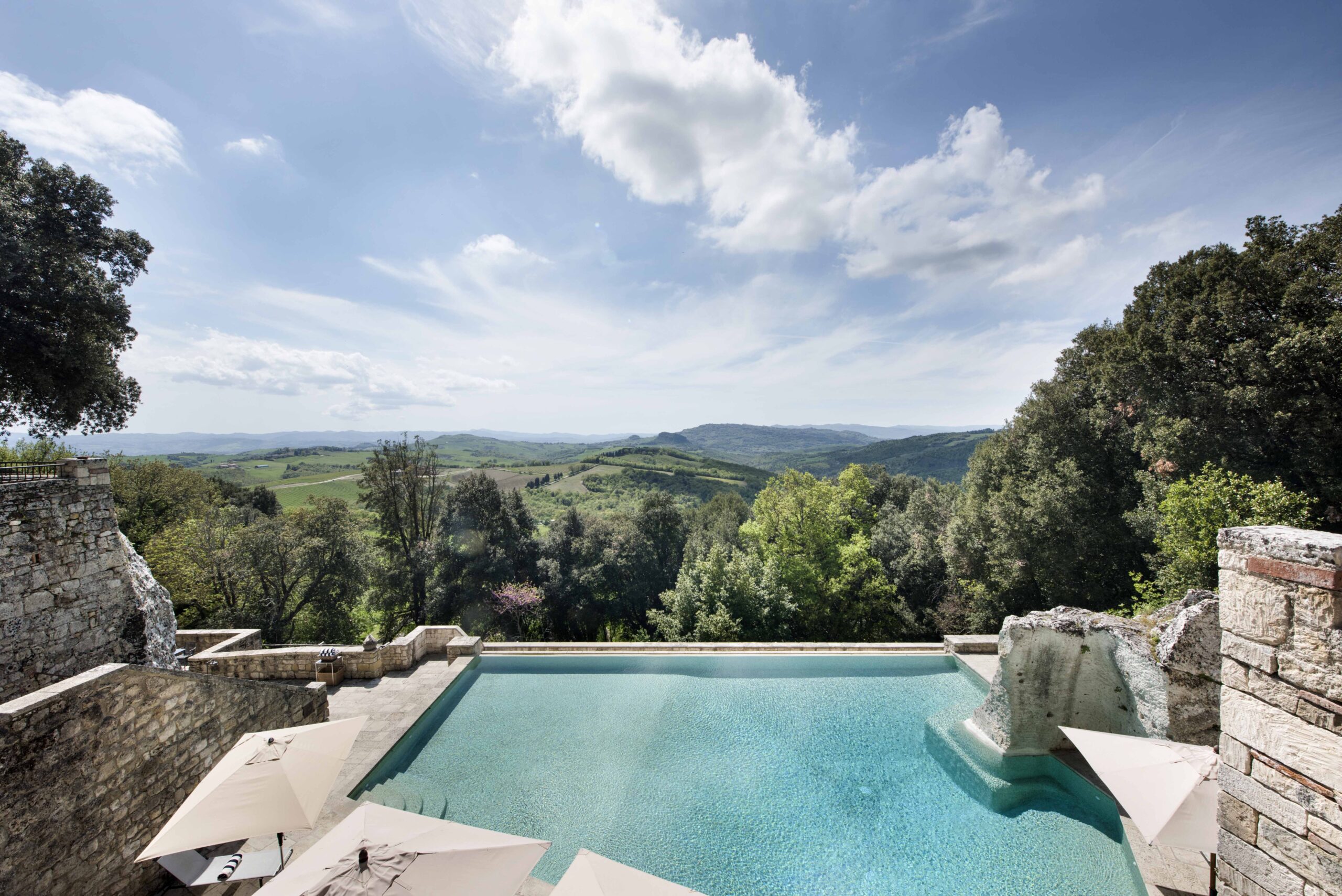 With expansive views of the Tuscan countryside, enjoy a dip in the heated infinity pool made with stone carved from a local ancient limestone quarry, which also supplied most of the stone used to build Porta dell'Arco, one of the main gateways of Volterra as well as Pignano's own buildings.  There is another smaller pool built especially for all children under the age of twelve.   The owner is a collector of old Italian bicycles, motorcycles and small cars.  These delightful vehicles are displayed in their own on-site museum.  There other objects of art, including a sculpture of famed-actor Jonathan Price.
Borgo Pignano uses innovative and traditional farming techniques. They actively rotate their fields to improve soil conditions.  Pignano's gardens are maintained by a full-time gardening team and nourished with filtered harvested rainwater, while natural and manmade lakes provide irrigation for the farmland.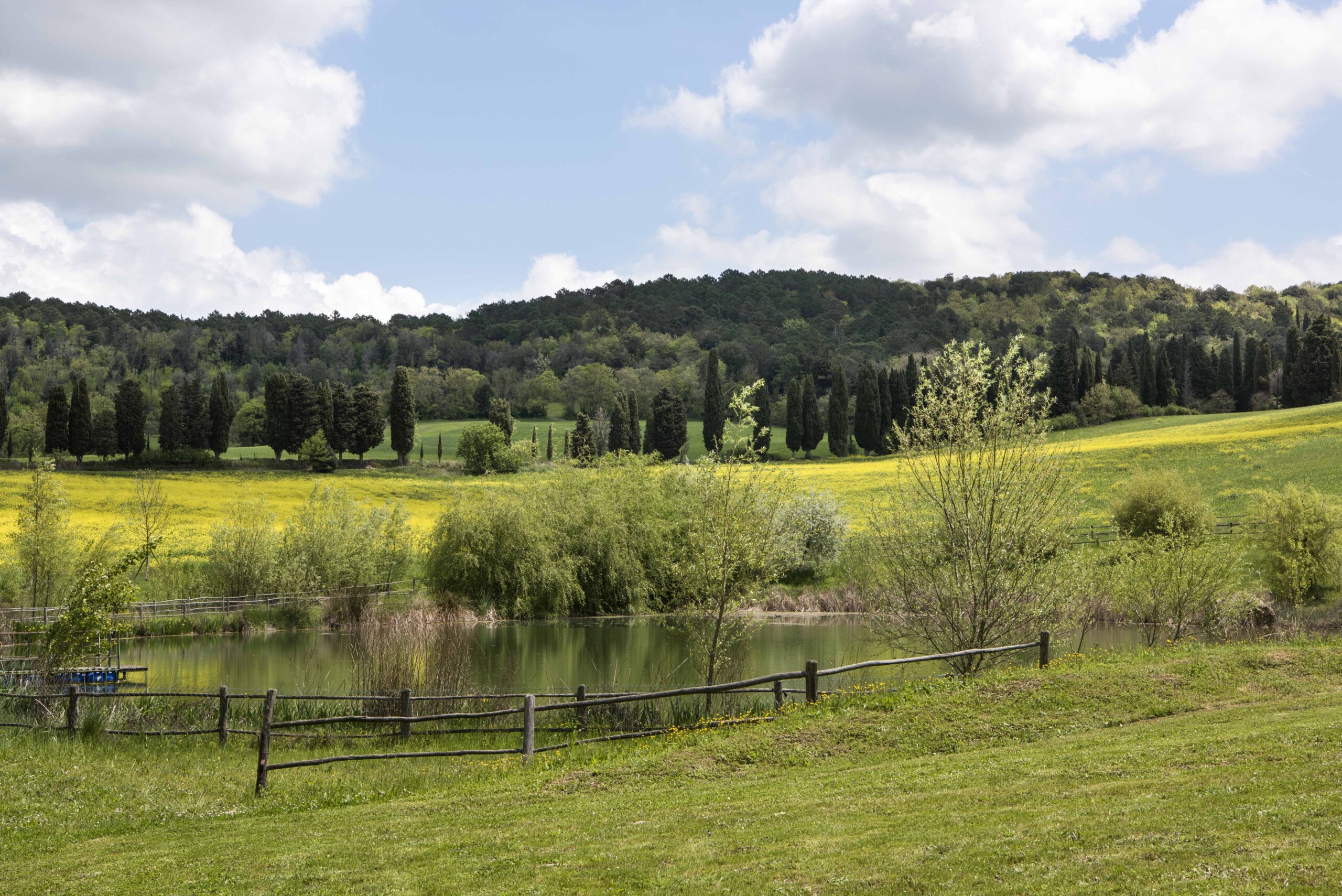 Gray and waste-water systems allow the re-use of water.  Swales, a natural system for retaining rainwater and preventing soil erosion which decreases the need for irrigation, are located throughout the property.  Fertilizers used are all organic, including horse waste from the property's animals and alfalfa.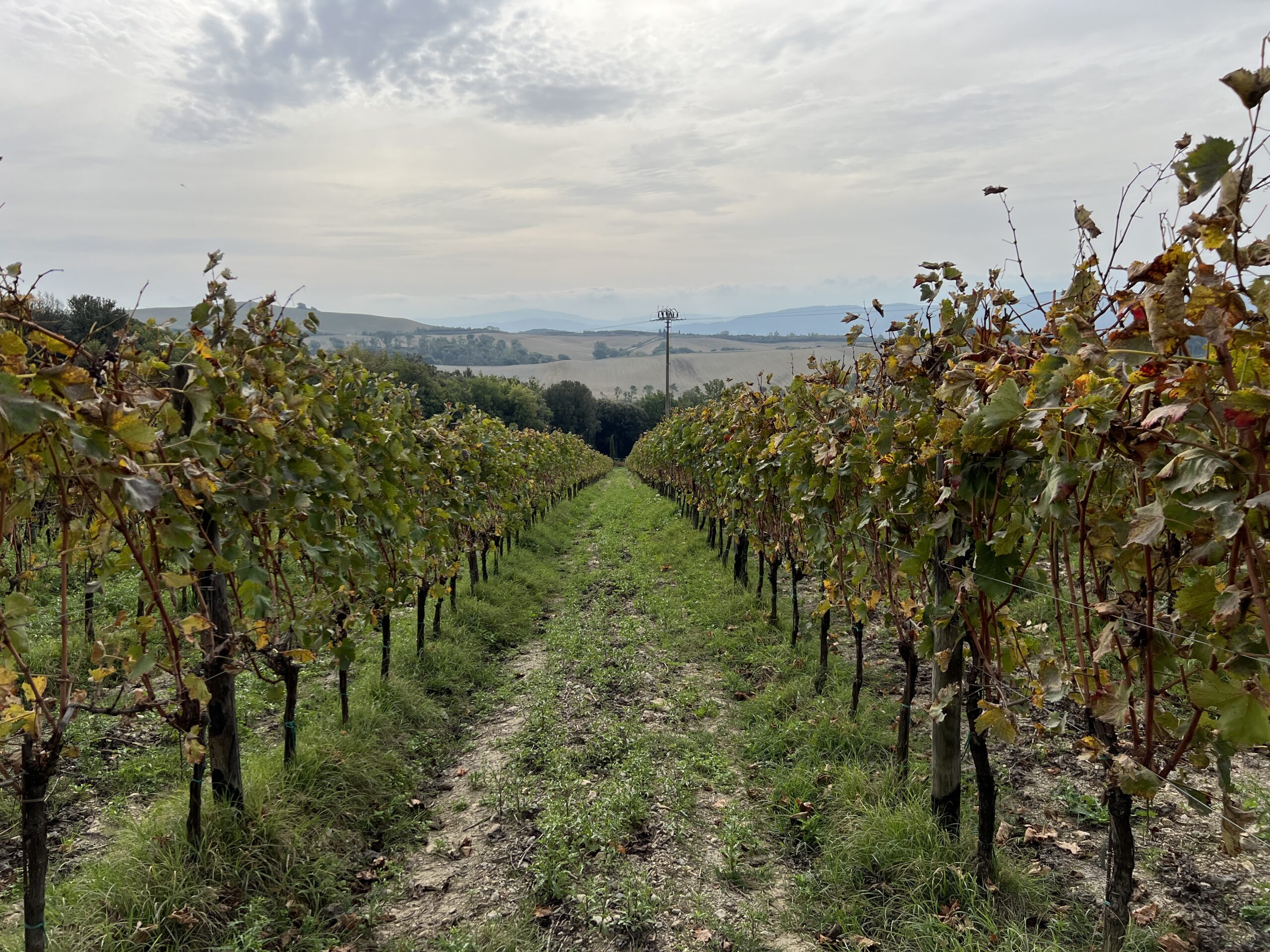 The resort has eliminated the use of plastic.  Organic shampoos, conditioners, soaps and lotions made from products grown in the property's garden all come in ceramic containers that are re-filled as needed. The Villa uses filtered water served in glass for both guests and staff.
The heating and hot water systems within the Villas are fueled by solar panels and chip-fired boilers that are fed by harvesting wood from thinning out the estate's forests.  With EV's growing in popularity, Borgo Pignano has added two charging points in the hotel's parking area.  There is very little that Borgo Pignano hasn't thoughtfully considered.  Now if only they didn't have winter in Tuscany, the Villa could stay open year round! Borgo Pignano is open from April 1 – October.