Find your Zen in a five-star wellness retreat between Cam Ranh and Nha Trang in Vietnam. 
The Fusion Resort Cam Ranh, an all-spa-inclusive beachfront property on Vietnam's South Central Coast, recently debuted The Hideaway, a new resort-within-the-resort on the sheltered western slope of an immense sand dune, with 50 secluded new one-bedroom villas. 
"With The Hideaway, we didn't want to simply add more of the same thing," explained Remco de Hoog, the property's chief design officer. Instead, we've built an entirely new property with its own identity, its own atmosphere, and its own unique facilities." The Hideaway embraces an environment dedicated to ultimate wellness with a rejuvenating and down-to-earth lifestyle, all in natural, picturesque surroundings. A stay at The Hideaway includes the same signature features as the main property: "anywhere, anytime" breakfast service, daily spa treatments at no extra cost, and complimentary wellness activities, such as yoga, tai chi and meditation.
With a modern design and natural color palette, the villas have open floor plans. Privacy seekers can close the curtains, while free spirits can leave them open. Floating hammock bathtubs, designed by De Hoog, are the focal point of the spacious bathrooms. To test the strength of the design, Fusion founder Marco van Aggelea jumped up and down in the first tub to be installed, confirming its structural integrity. Custom-made porcelain dispensers contain the shampoo, conditioner and body soap, while tilting shelves hold rolled-up towels. A comfy chair and small cocktail table beside the tub provide a sweet place to relax alone or with a companion and a glass of bubbly. fusionresorts.com/fusionresortcamranh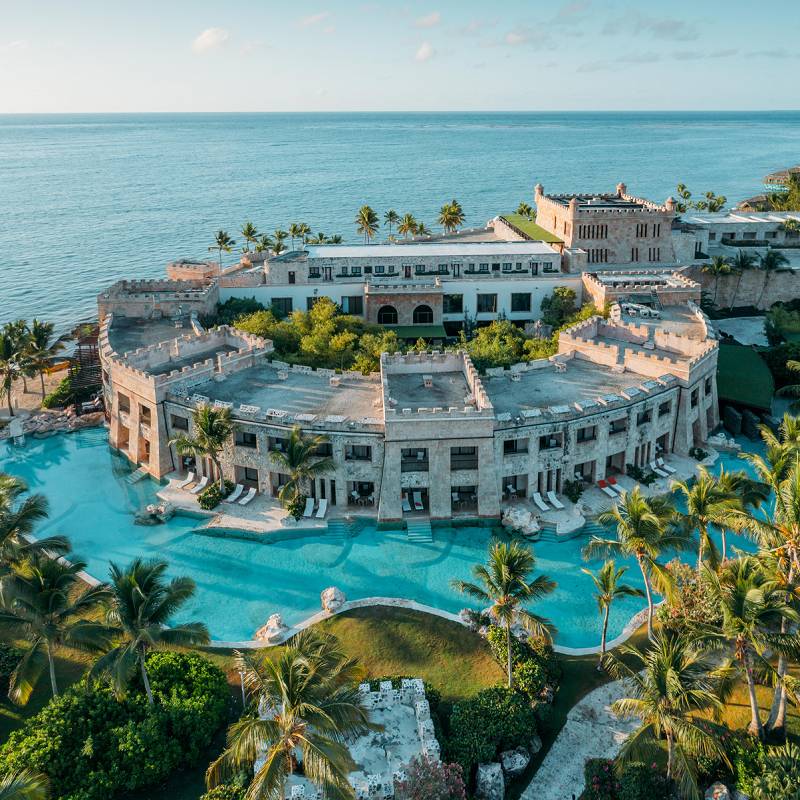 SANCTUARY CAP CANA
Escape to an adults-only, all-inclusive spa resort in Punta Cana, Dominican Republic.
After undergoing a multimillion-dollar modernization, Sanctuary Cap Cana , which occupies 20 tropical acres on the eastern tip of the Dominican Republic, celebrated its grand reopening in January 2019. The centerpiece of the project is two impressive new towers containing 140 additional suites. 
The renovation, overseen by Carmen and Laura Carrillo of Carrillo Projects Co., extends to every corner of the exclusive resort, including all guest accommodations and extraordinarily relaxing public spaces.  
The resort resembles a  cliffside Spanish  Colonial town, with a replica of an authentic castle housing private Castle Island Suites, some facing a lush garden, others facing the sumptuous Caribbean Sea, and some with access to a private island.  
Refreshed décor includes rich wood accents and rattan furnishings in living rooms, while minimalistic bathrooms highlight nature in its purest form, with wall-to-wall coralline stone, double above-counter vanity sinks, and a floor-to-ceiling tub-side window that literally lets you soak up the tranquil Caribbean scenery. sanctuarycapcana.com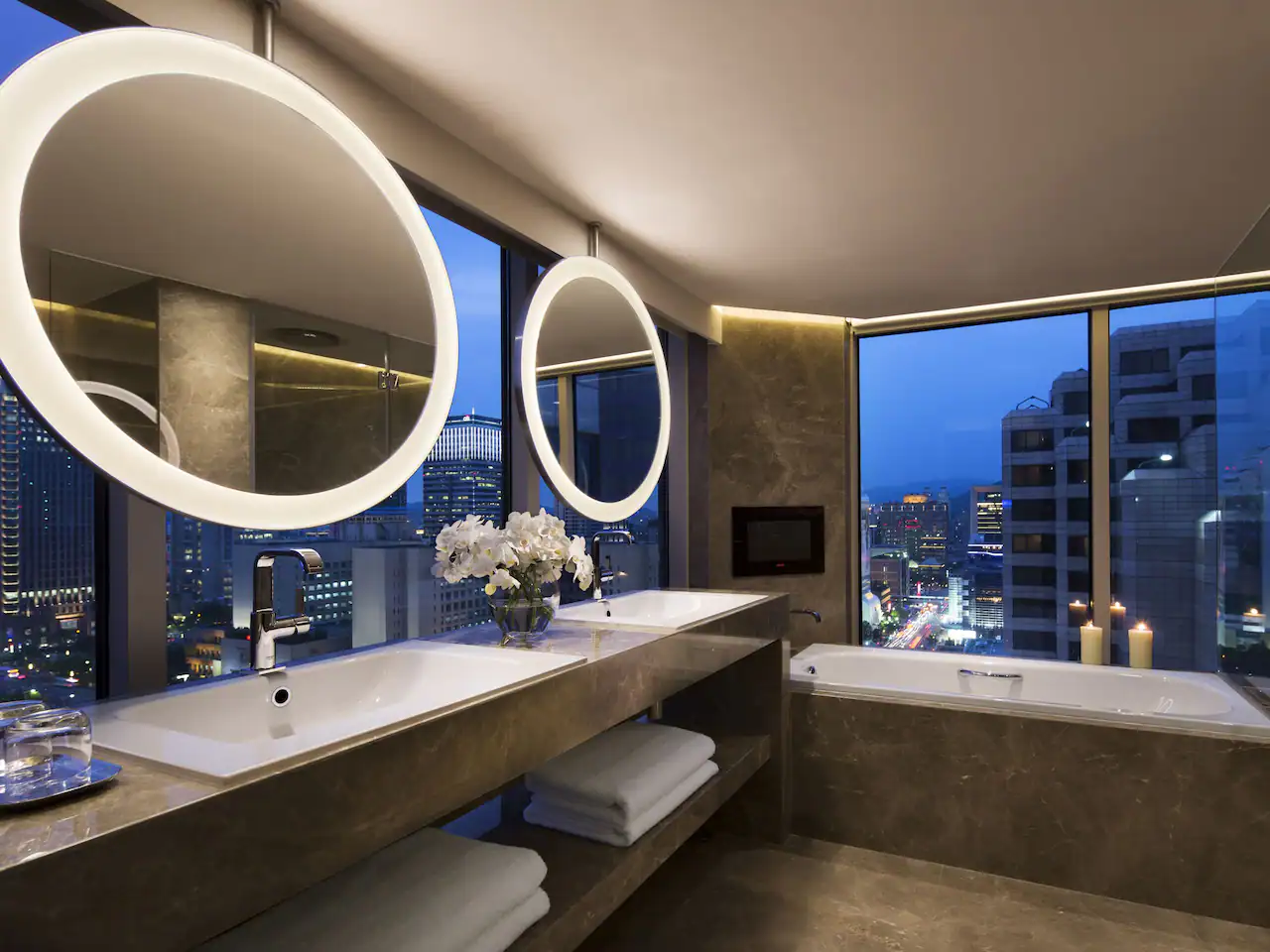 GRAND HYATT TAIPEI
Opened almost 30 years ago, the first international luxury hotel in Taiwan's capital city is now a modern marvel.
In the heart of Taipei's vibrant commercial center, the iconic Grand Hyatt Taipei recently underwent a monumental renovation, stripping bare all 850 rooms and suites, restaurants, bars, meeting spaces and club facilities and reconstructing them as a luxurious, contemporary Taiwanese hotel. 
Parisian design firm Didier Gomez Design executed the project, striking a balance between East and West. Goose down duvets, ample windows, textured walls, suites that feel like apartments, and rooms that elicit exclamations of "wow" from guests are hallmarks of the hotel's brand-new day.  Guest rooms range in size from 355 to 430 square feet at the grand deluxe level to more than 893 square feet in an executive suite. 
The new Presidential Suite is a 2,379-square-foot masterpiece apartment, featuring legendary views of the iconic Taipei 101 Tower. The nearly 250-square-foot master bathroom has Statuario marble tiles, an extra-deep, high-back Villeroy & Boch soaking tub with spa jets, and a mirror that transforms into a television. hyatt.com/en-US/hotel/taiwan/grand-hyatt-taipei/taigh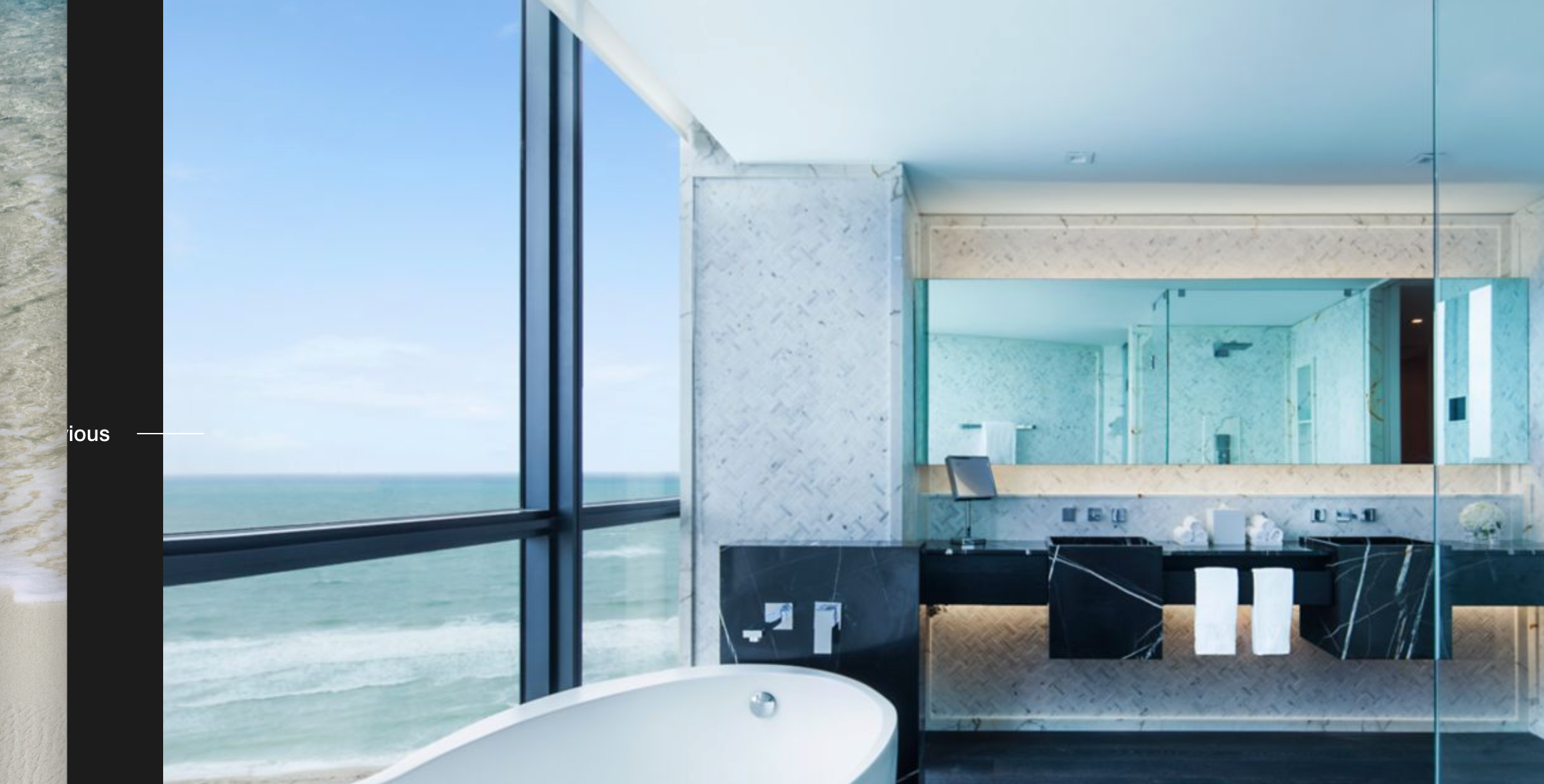 W SOUTH BEACH
The iconic beachfront landmark hotel makes its presence known on the sunny shore of Miami, Florida.
The fashion-forward continue to meet, mingle, eat and sleep at W South Beach,  where 408 W-branded residences include the newly redesigned E-Wow Penthouse and E-Wow Ocean Escape suites. The 20 floors of oceanfront lodging were designed by the acclaimed team of Costas Kondylis, Anna Busta and Paula Hayes. 
The hot spot hotel of South Beach sits at the center of Collins Avenue, within walking distance of clubs, shops, parks and all the action. Mod and classy, lively and private, W South Beach mixes spontaneity with structure in W's fully integrated lifestyle experience—just what you want from a luxury hotel in the Miami sun. 
The master bath at W South Beach's E-Wow Ocean Escape suite features a monochromatic color scheme contrasted with dark hardwood floors and panoramic views of the Atlantic Ocean. Bathrooms are adorned with black and gray veined Cipollino marble vanity countertops and high-end chrome fixtures. Spacious walk-in showers and full-sized sleek Japanese-style soaking tubs are outfitted with Bliss® Spa amenities. "Smart" features allow guests to control lights, temperature and in-mirror television, as well as activate the high-tech toilet, all with the touch of an iPad. marriott.com/hotels/travel/miaws-w-south-beach