By Angela Fairhurst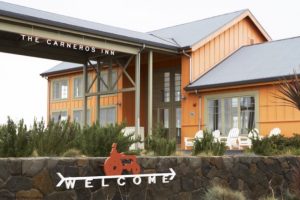 Nothing sounds more inviting than a few relaxing days in the wine country of California. This can also be an overwhelming proposition as Napa Valley is home to more than 400 wineries located in 9 towns with over 125 restaurants and probably as many lodgings from which to choose.
THE CARNEROS RESORT & SPA
Off the Sonoma Highway sitting on 27 beautifully landscaped acres is The Carneros Resort & Spa. Once a trailer park and still zoned as such, the luxury resort grounds include farmland, fruit trees and vineyards broken up into quaint divisions. Each neighborhood is painted with a variety of colored doors making it easier to differentiate between the 86 individual cottages. The residences are all 420 square feet with fireplaces, European showers and heated slate floors in the bathrooms. You'd think the warmth of the floor underneath bare feet is enough to seal the deal, but the standout feature is the backyards. Each cottage has French doors that open onto a serene patio and outdoor space. The difference between the cottages is the size of the backyard. All of them have outdoor showers, a clever extension of the indoor shower with a door that swings and locks both ways for complete privacy. There are electric heaters perched above the lounge chairs and cozy throws for Napa's evening chill. Some have outdoor fire pits and soaking tubs both in the bathroom and in the yard.
No matter what your bathing preference, with four options, the Carneros Resort & Spa has the romantic choice.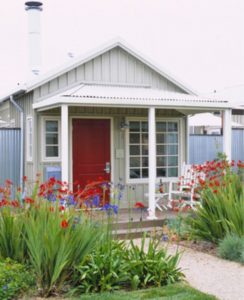 THE RESTAURANTS
The casual choice is the BOON FLY CAFÉ, named for a Carneros pioneer who planted orchards and vineyards in the mid-1800s featuring modern rustic cuisine. Known for its fresh-baked donuts for breakfast, the Café also offers tasty lunches and dinners on premises or packed to go. The Restaurant draws both guests and locals alike.
The more formal option is FARM at The Carneros Resort & Spa, serving full-flavored simple, elegant food using organic and sustainable local agriculture, highlighting the wines of the region. It's a relaxing, yet elegant, indoor dining space with an outdoor patio living-room-styled lounge featuring cathedral ceilings and two fireplaces.
THE SPA AT CARNEROS
Created especially for Carneros guests, the spa offers a variety of services including facials, massages, body and nail treatments. It is a tranquil and a private paradise where you can enjoy restorative treatments by skilled therapists. If the environment at The Carneros Resort does not make the navigating Napa easier, the concierge will be happy to design a custom wine tour for you.