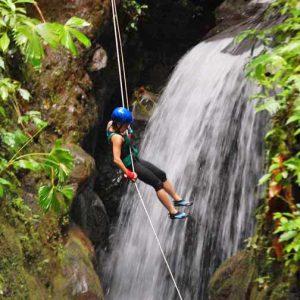 VIDEOS  //  Produced, shot, written and voiced by Angela Fairhurst; Edited by Craig Golin

Intrepid Travel

Not only planes, trains and automobiles. We're scaling rock walls, climbing mountains, biking backroads, zip lining, diving deep and getting up close and personal with nature. See the world from a whole new angle.
Park life in Barcelona
The good outdoors only gets better in Barcelona. In the "old city" district of Barcelona is the Citadel Park, Parc del la Ciutadella.  The Arc de Triomf welcomes visitors, with other fine architectural statues and structures are plentiful such as The Art Nouveau Castle of the 3 Dragons and the Cascade Fountain. The idyllic park spans 70 acres and isa gathering place for people of all ages and all sorts of activities along its pathways. Stroll, picnic, take photos, boat…and enjoy the beauty of the outdoors.
Adventures in Athens
xAthens, is the largest city in Greece with a sprawling population of 4 million. Seeing the Acropolis and the Pantheon, and enjoying many other historic 5th Century BC buildings and landmarks is a big part Athens and not to be missed, but that is not all there is to the Greek capital. Be sure to check out all the amazing shopping and the Corinth Channel for a Bungee jumping adventure.
California's Rugged Central Coast
California has one of the prettiest coast lines in the world. From Los Angeles heading north, join JauntTV on a road trip that includes Santa Barbara, Paso Robles, Big Sur, Monterey, Carmel, and some Redwood trees.
New Zealand's Hidden Treasure: Hike a historic mining site near Auckland
New Zealand's historic Kaimai Mamaku Conservation Park is a historic mining site outside the city of Auckland New Zealand, near Paeroa with several popular hiking trails amongst its 174 square miles. Discover the structural remains of the 1885 Woodstock Goldmining Company while enjoying the nature surrounding the railway and the river.
https://www.youtube.com/watch?v=nUH2U3oMnbE
Bike Ride in Bangkok
While visiting Bangkok, JauntTV took a detour a world away from the hustle and bustle of the city on a bike riding excursion. We cycled off the beaten path on quiet back roads through paths, narrow alleys and walkways amongst canals and small villages and explored the lesser known places. A true experience.
Cabo Landmarks by Boat
There are many excursions to pick from as a way to see the landmarks of Los Cabos, but the :45-minute Glass Bottom Boat Tour from Playa El Médano next to Pueblo Bonito's Los Cabos is Cabo's main beach where guests can experience Cabo above and below the water has been my favorite landmark excursion to date.
The majestic elephants at Chang Chill, a observational-only sanctuary in Chiang Mai
Chiang Mai, in the striking mountainous area of Northern Thailand, is known for some of the best elephant experiences in Thailand. Chang Chill is a special place, an observational–only environment where visitors observe the six resident females in their natural habitat over the course of their normal day. http://changchill.com/
San Diego from the Water
JauntTV ventured to downtown San Diego for a stay at a new hotspot, the InterContinental San Diego that sits in front of the scenic San Diego Bay waterfront, where we got to explore the area on a harbor tour, with a fabulous perspective of the San Diego-Coronado Bridge and all the ships of the San Diego Naval Base.
Adventures in Quintana Roo
Quintana Roo is a Mexican state on the Yucatán Peninsula, surrounded by Cancún, Tulum, Playa del Carmen and Isla Mujeres. JauntTV had a stay at the Grand Moon Palace with adventures at Rio Secreto's underground river, a Jungle night with zip-lining, cenote swim and ATV'ing, a whale shark adventure and a look at some Mayan Ruins.
My Wimbledon Experience
Wimbledon, is the oldest tennis tournament in the world, widely regarded as the most prestigious has been held at the All England Club in Wimbledon, London, since 1877. Join JauntTV for a bucket list experience.
Munich Olympic Stadium Roof Walk & Zipline Tour
Olympiapark was built for the 1972 Olympics in Munich. Almost 50 years later, the iconic park continues to be used for multiple activities including a Flying Fox adventure to ascend the unique roof structure and ascend the unique roof structure of the Olympic Stadium for an unforgettable experience.
Destination: Acapulco Stay Play See
Tourists are coming back in droves to Acapulco for the beaches, adventures (such as an over-water zip line), cultural museums, resorts, and a nature preserve.
The Best of Munich, Bavarian Adventure, Food & Drink
Munich is Bavaria's capital, known for its annual Oktoberfest celebration, beer halls, centuries-old buildings and numerous museums. JauntTV got to experience all that and a few more – riding a BMWi8, zip lining the Olympic Stadium and watching surfing the middle of the city.
Swimming with Whale Sharks in Quintana Roo
Join JauntTV as we swim with Whale sharks 20 miles off the coast of Quintana Roo, Mexico on a bucket list adventure.
The Beautiful Animals of South Africa
Join JauntTV on a once-in-a-lifetime trip to South Africa to see safari animals, penguins, and humpback whales.
Adventures in Costa Rica
JauntTV takes us on a nature and adventure journey near the Arenal Volcano to the Tabacon Thermal Resort and Spa.
Desert Adventure in Palm Springs
Join JauntTV on an outdoor adventure to San Jacinto Peak and Tahquitz Falls in Palm Springs, California.
Chicago by Sea and Air
Chicago is one of the most dynamic cities in the United States and known for its bold architecture. Join JauntTV by sea and air to view the city with us.
Cruising Over Cabo on an ATV
A fun snippet of our ATV ride on a suspension bridge in Cabo.
Ziplining in Nicaragua
A little local culture, a little ziplining, a little wildlife and a little nap at a private beach.
Falconry at Ashford Castle Ireland
JauntTV vignette on Falconry at the Ashford Castle in Mayo County Ireland.