Focus On… The Revitalized Aldon Kempinski Berlin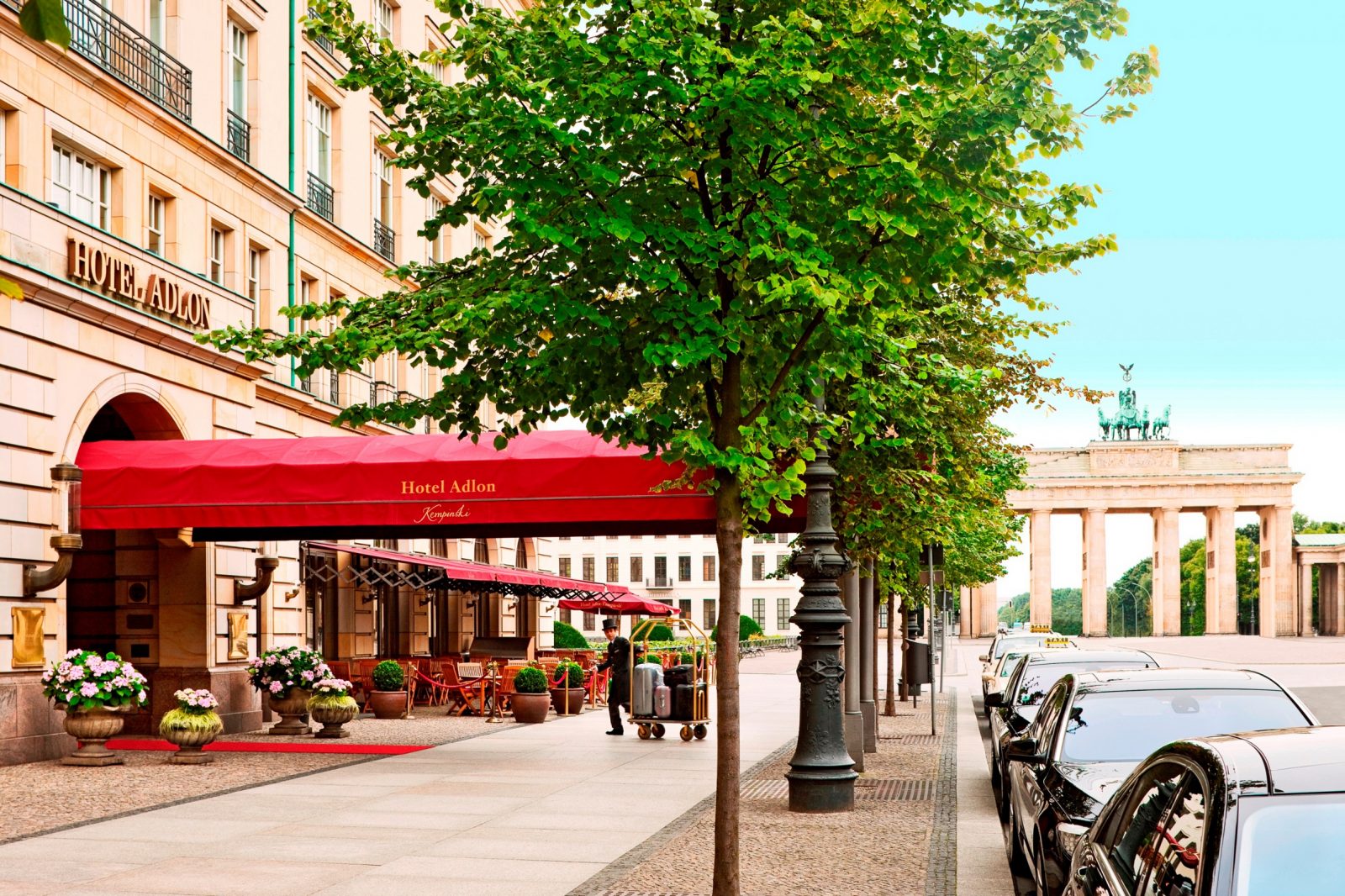 By Angela Fairhurst
Located in a prestigious area of Berlin, next door to the famous Brandenburg Gate, is the iconic Hotel Adlon Kempinski Berlin.  The fabulous location, its legendary history, luxurious décor and stellar service make the Hotel Adlon Kempinski an ideal stay.
The classic building on Unter den Linden Boulevard has 307 guest rooms and 78 suites, will all the hotel floors and halls bordered in limestone.  Designed by Ezra Attia Associates of London and AB Living Designs of Sweden, the walls and doors are of mahogany with wood cherry furnishings.  The guest bathrooms have a separate powder room that joins the main bathing space using black granite, pale marble and noble wooden furnishings.  There are double vanities, a separate steam shower bathtub and a multifunctional dressing table. The electronic key card system simultaneously turns on the lights and air-conditioning when it opens the door and there is a handy nightlight for the room and the bathroom that can be switched on and off.
The Adlon has three  presidential suites– the "Royal Suite", the "Impérial Suite" and the Presidential Suite "Brandenburger Tor." All three suites feature five rooms, are individually furnished and have elaborate security features.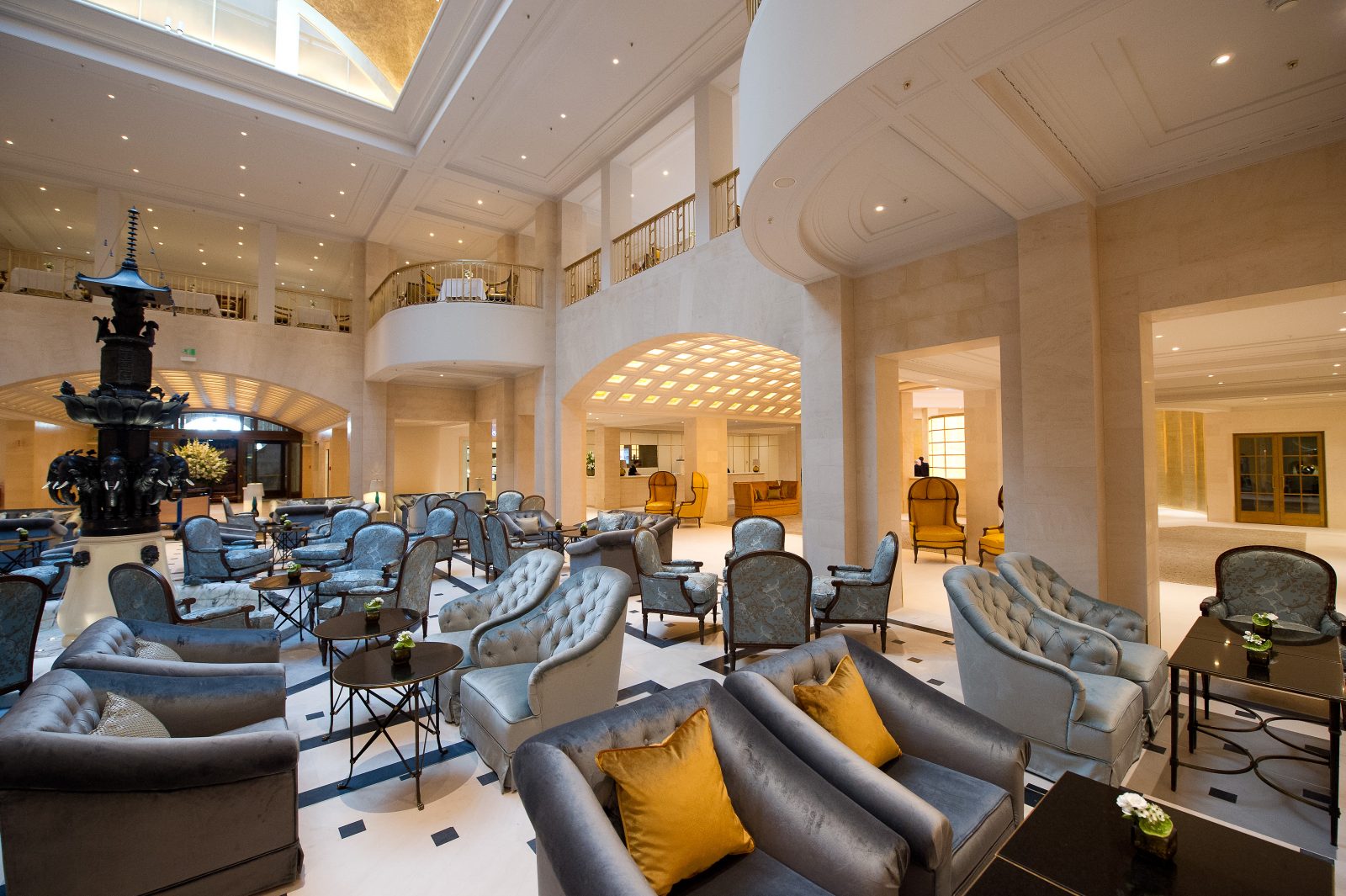 The public areas such as the entrance, lobby, lobby bar and reception area underwent an opulent redesign by Anne Maria Jagdfeld of Berlin's Jagdfeld Design in 2016.   The area was opened up to make it more spacious.  Inspired by the focal point of the lobby, the famous elephant fountain, a present from the Maharaja of Patiala around 1930, Jagdfeld added rich colors of the Indian style of the Maharaja in warm gold, turquoise, blue-grey and silver furnishings. Antiques and furniture were selected from Italy combining the use of limestone, leather, brass and onyx.  The piece de resistance is a Murano glass Venetian chandelier that is over 11' tall and 5' wide made of 390 glass prisms.   Not only is this lighting stunning, an elaborate lighting system was added to the area to illuminate all the gold leaf in the ceiling as well as the entire space.  The Lobby Bar is a hand-crafted piece of glasswork over 13' long by the London artist Emma Peascod.  There are always fresh, colourful and heavenly scented lavish flower arrangements and table decor for which the Adlon is so well known.
The Adlon has 3 restaurants. Lorenz Adlon Esszimmer, the hotel's two Michelin Star restaurant by Chef Hendrik Otto presents classic dishes as well as contemporary offerings.  Chef Michéle Müller of Quarré offers both regional Brandenburg specialities and also national and international classics with a modern twist. "Sra Bua" – the Thai word for lotus pond – combines the diversity of Asian cuisine with the distinct culinary signature of top chef, Tim Raue.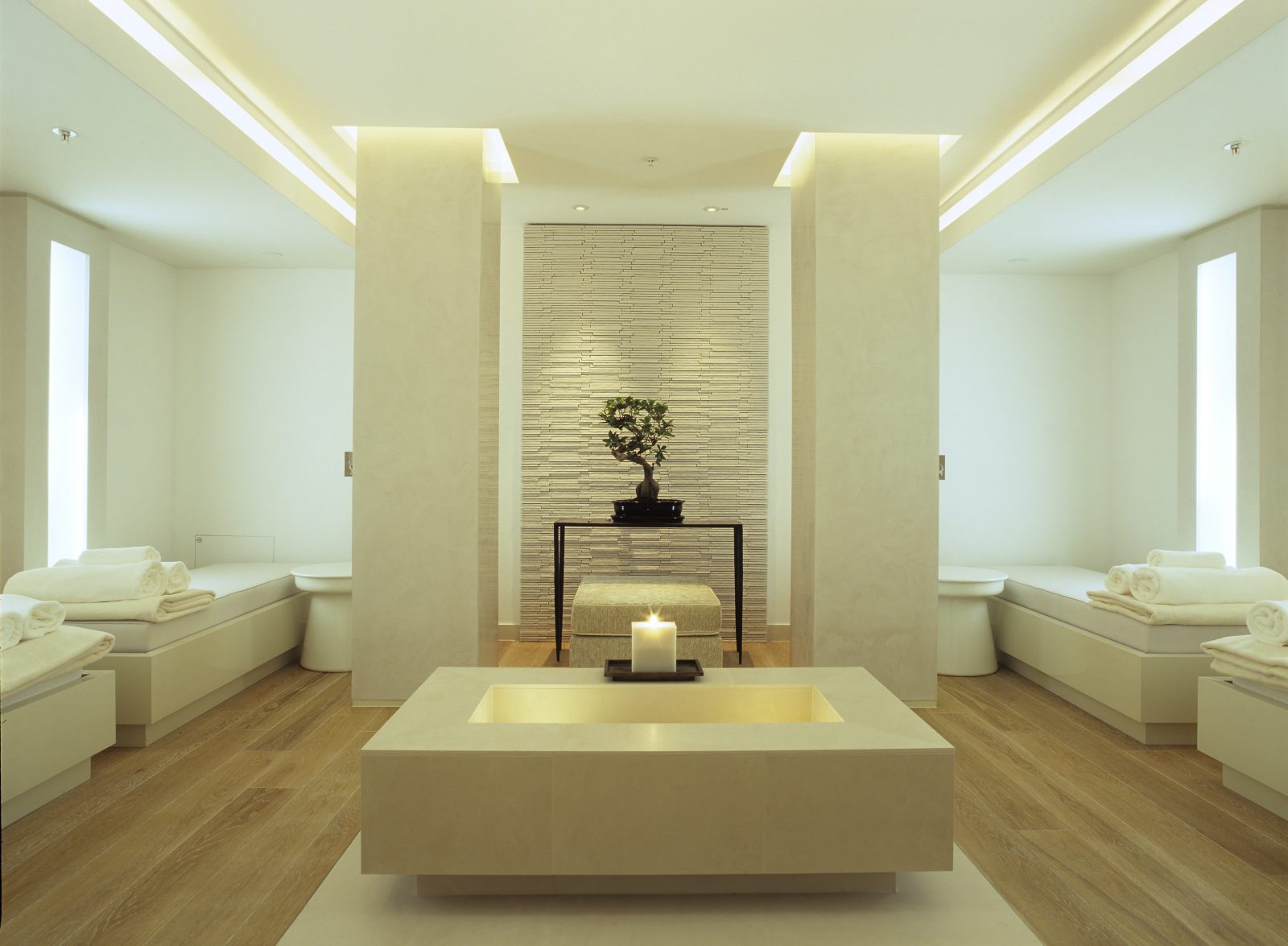 The Adlon Spa and wellness area, also designed by Anne Maria Jagdfeld, features a welcoming and therapeutic environment, with a fireplace and illuminated walls made of Alabaster to attract the elite guests from all over the world.