Focus On… Tabacon Thermal Resort & Spa
By Angela Fairhurst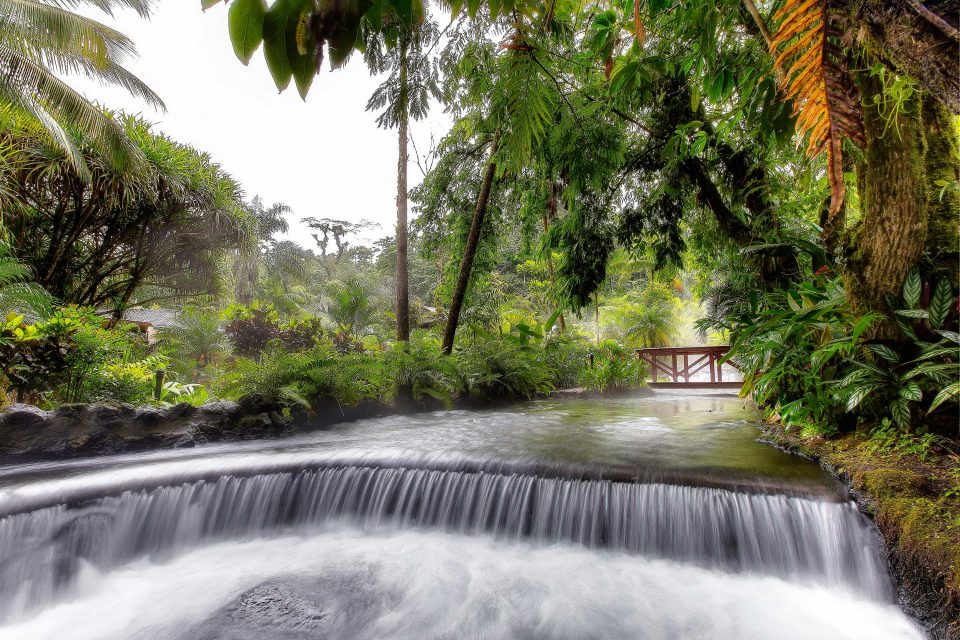 Costa Rica is a small Central American country big on biodiversity. The little country, approximately twice the size of Massachusetts, is responsible for 6% of the world's diversity.
THE RESORT
The carbon neutral Tabacon Thermal resort and spa in the Northern region of the country is near the small village of La Fortuna and the Arenal Volcano.  The 103 rooms and suites are located in the heart of the rainforest amongst lush vegetation, exotic flora and animal life such as sloths, coatimundi, birds, lizards and insects.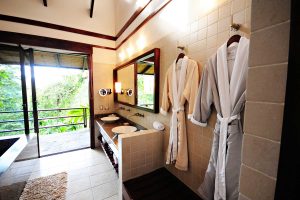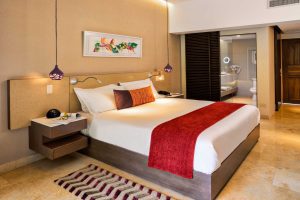 THE ROOMS
Reflecting and respecting the surrounding culture and area, the rooms feature artwork designed by Costa Rican artists and dark wood furnishings made from sustainable materials.   The bathrooms have ample sized showers that peek through to the bedroom should you so choose. The rainforest or garden views are designed to make guests feel at one with nature with glass doors and patios.
THE THERMAL SPRINGS
Local Costa Rican architect Jaime Mikowski discovered the thermal springs in 1991 while on a water bottling project.  It was his brainchild to turn the property into the thermal springs experience it is today.   The area is maze of waterfalls, walkways and 20 in-river pools that are 100% naturally heated by the volcano's magma. The Shangri-La Gardens is the secluded adults-only section at the top of the thermal springs.  This area is reserved for hotels guests only and includes six natural pools, a full bar, and private cocoon shaped cabanas. Because of the atmosphere, it's perfectly acceptable to slip your bathrobe on and walk around the grounds.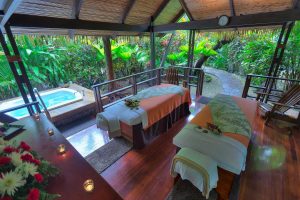 THE SPA
The spa is located next to the thermal springs. It has a central unisex relaxation area with comfortable lounge chairs surrounding a large jetted pool.  The pre-spa ritual includes tea service, soothing cucumbers, and cooling cloths for the eyes.  There is also a healthy bite and smoothie menu.  All 11 of the treatment bungalows are hidden amongst the trees in complete privacy and have their own naturally heated Jacuzzi tubs with showers.  Treatments run the gamut from massages, signature treatments, facials, mani-pedis, and salt baths.
FOOD AND DRINK
The resort has two bars for lite bites and drinks at Shangri-La and the Arenal pool; two full service restaurants: del Paraiso for traditional Costa Rican cuisine and Los Tucanes for al la carte international fare, plus Cana Brava, for tapas and drinks in the lobby lounge. Guests can also request a private dinner in a candlelit open-air rainforest bungalow.
SUSTAINABLITY
Tabacon has a green program encouraging guests and locals to conserve local resources and aid in protecting Costa Rica.  It's another good reason to visit.