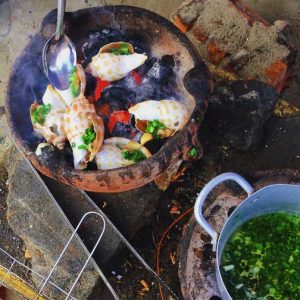 VIDEOS  //  Produced, written, voiced and shot by Angela Fairhurst.   Edited by Craig Golin.  
Local Food & Drink

We search and find the best local food and drink in any given town and focus on culinary items that are truly geographically specific to the featured area.
Wine Victoria: Bubbles in King Valley
King Valley in Victoria Australia is the home to Australian Prosecco. The King Valley region is centered on the King River for cooler climate mountainous grapes perfect for Prosecco. JauntTV explores a number of wineries in the region, bubbles and beyond.
Imbibing in Santa Fe
Known as the City Different, Santa Fe, New Mexico's capital, has a unique creative arts community that is no less unique when it comes to unique drinks. The Margarita Trail is a way to taste specially-crafted margaritas in 45 different bars and restaurants around town. And that's not all, as places like Santa Fe Spirits bring unique spirit drinks from their artisan distillery.
Making Tamales in Santa Fe
JauntTV learned the intricacies of making traditional tamales at the Santa Fe School of Cooking with three different tamale-making techniques.   We participated in the cooking of Red Chile and Pork Tamales; Southern Mexico Style Chicken Tamales in Banana leaves and Blue Corn Tamales with Calabacitas (Squash) Filling
Street Food in Puerto Vallarta
Some of the best food in Puerto Vallarta can be found on streets carts, taco stands, and in family-run eateries. Join JauntTV as we chow through downtown's vendors on The Street Evening Taco Tour with Vallarta Food Tours.
Chocolate Cooking Lessons from Puerto Vallarta
CHOCOLATE comes in many forms. It's usually a sweet food preparation of roasted and ground cacao seeds that is made into a liquid, paste, or in a block. JauntTV enjoys ways to make chocolate treats in Puerto Vallarta with Chocomuseo.
Raicilla: The next agave spirit is making a splash in Jalisco Mexico
Raicilla is an agave alcohol from Jalisco Mexico. It's not as well-known as its Tequila or Mezcal but it's the latest smoky spirit to make its way into the commercial marketplace. JauntTV enjoys a Raicilla tasting with Chef Guillermo Wulff, the owner of La Lulu Raicilleria in Puerto Vallarta, one of only two Raicilleria bars in the world.
The Skinny on Margaritas: Learn how to make them!
Ever wonder how a skinny margarita should be made? JauntTV learns how from the JW Marriott Cancun. And for a bonus, we learn to make a Mojito as well.
A Food Journey with Gaby's Restaurant in Puerto Vallarta
Whether eating street food or luxuriating in a fine dining experience, Puerto Vallarta has the finest Mexican cuisine. Join JauntTV for a market and cooking experience with Gaby's Restaurant in downtown Vallarta where we make classic Mexican recipes with a twist.
Wellness recipes at the new JW Marriott Cancun
JW Marriott Cancun has a "new point of blue" which focuses with a wellness viewpoint of mind, body and spirit, including world-class culinary options. JauntTV enjoyed a cooking demonstration on How to prepare a few healthy dishes including Grouper Ceviche, Green Juice and a Nopales Cactus appetizer.
Learn how to make Gnudi with Chef Amy at the new InterContinental San Diego
JauntTV visited the new InterContinental San Diego and got to participate in a lesson in making native Chef Amy's famous"gnudi", a cross between gnocchi and ravioli in the kitchen of Vistal the hotel's signature restaurant.
Making Traditional Greek Cretan Cheese Pie
While at the King George Hotel in Athens, JauntTV got a private cooking class on how to make traditional Cretan cheese pies from Sfa-kia. These thin pies are a cross between a crepe and a pancake and are filled with delicious soft cheese.
A Beer Jaunt in Munich
To say breweries are popular in Munich, would be an understatement. There are hundreds, maybe even thousands of breweries all abiding by the Bavaria Beer Purity Food Law which means the beer contains only water, malt, hops and yeast. . JauntTV was able to visit a few.
Kinsterna cooking lesson in Monemvasia Greece
The Peloponnese is a region in southern Greece, with Monemvasia being a magical town from the Middle Ages overlooking the Mediterranean Sea. Kinsterna Hotel is a glorious luxury boutique hotel, a few minutes from the center of town, meticulously restored from a Byzantine-era rural mansion where we foraged for greens their own gardens, and got a cooking lesson in making traditional "Tsaiti" pie.
Making Stuffed Zucchini Flowers Greek Style
JauntTV got a private cooking class on how to make Stuffed Zucchini Flowers from Executive Chef Asterios Koustoudis at the King George Hotel Athens.
Cooking Fresh Tuna on Hot Stones at the Pueblo Bonito Pacifica Resort
Within the exclusive residential development of Quivira Los Cabos, JauntTV learned how to cook fresh tuna on hot stones and whip up a homemade salad and dressing at Pueblo Bonito Pacifica Golf & Spa Resort.
A food tour of Toronto's Little India
In recent years, Toronto has experienced a boom especially in the food and drink scene. JauntTV went with Kevin Durkee on a Culinary Adventure to Toronto's little India.
Learn How to Serve a Whole Fish Greek Style
The best fish in Greece is served whole. JauntTV visited Nafplio, a seaport town in eastern Peloponnese where Greek Tourism treated us to a dinner that included whole fish, and we learned how to serve it.
Cooking Nopales Cactus
Hosted by Arizona Tourism, JauntTV learned how to prepare Nopales in a few different ways taught by Chef Louis Pechan from Hundred Miles Catering. Nopales are the pads of the prickly pear cactus commonly found in Mexico, Arizona and Southern California.
Celebrating Prague's Food & Drink
Most people visit Prague for its beauty, but on this little Jaunt, we celebrate Prague for its food and drink.
Making a Manhattan Cocktail
Join us for an onsite mixology workshop at the AC Hotel Irvine with head mixologist and spirits expert, Luis Delpozo, with a variation on the Classic Manhattan.
A Lesson in Making New Mexico's Sopapillas
JauntTV gets into the kitchen to learn how to make New Mexico's local dish, SOPAPILLAS at Sadie's…a restaurant serving the people of Albuquerque for over 60 years.
A Visit to the Blinking Owl Distillery in Santa Ana, California
The Blinking Owl is the very first craft distillery in Orange County.
The AC Hotel Irvine carries their whiskey, and the hotel took us on a private tour of The Blinking Owl's, tasting room and production facility.
Making Pure Aloe Vera
Aloe Vera is anti-inflammatory, antiseptic, and has antioxidant properties that aid in healing.  Learn how to make pure Aloe Vera gel, courtesy of Claudine Reimer and the Villa del Palmar at The Islands of Loreto.
Making Mexican Guacamole and Shrimp Ceviche
Learn how to make traditional Mexican Guacamole and Shrimp Ceviche in our cooking lesson from Krystal Grand Los Cabos.
Learning to Make Pasteis de Nata in Lisbon
JauntTV takes us to LIsbon where we watch the making of Portugal's favorite dessert, Pasteis de Nata, custard tarts at Manteigaria.
Tequila Tasting at The Gates Hotel South Beach
On a recent stay at The Gates Hotel South Beach in Miami Florida, we were treated to a Casa Noble Tequila Tasting. Tequila is a regionally distilled alcoholic beverage made from the blue agave plant.
The Making of Argan Oil in Morocco
Join JauntTV as we learn to make rare Argan oil with Berber women in the Atlas Mountains of Morocco.
Grape Harvest Season in Paso Robles
Eberle Winery is the only winery that stores their wines in underground caves.
Aruba's Local Dish – Making Keshi Yeni in Aruba
Enjoy a cooking lesson for a traditional cheese-filled Aruban dish.
Making Sparkling Wine in Temecula at Carter Estate Winery
At Carter Estate Winery & Resort in Temecula California, JauntTV takes a look at the méthode champenoise process to create their sparkling wines.
Learn How to Make a Habanero Margarita at Chicago's I/O Rooftop Bar
JauntTV takes us to I/O, the rooftop bar at Chicago's Godfrey Hotel where Executive Chef Nate Cayer teaches us how to make a craft cocktail, a Habanero Salted Foam Margarita.
Lion Fish as Dinner in Belize
Lion Fish from Belize (and other Caribbean islands).